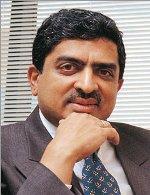 Banks in the medium future, may not need to engage in the "know-your-customer" (KYC) process, a check on customer antecedents, to open no-frills accounts. This could happen once a sizeable chunk of population gets a Unique Identification (UID) Number.
Once the UID number of a person was activated, banks could do away with KYC norms for small-value, or no-frills, accounts, said a top public sector bank official after attending a meeting organised by the Reserve Bank of India (RBI) on Friday on using UID for financial inclusion.
The Unique Identification Authority of India Chairman and former Infosys co-chairman Nandan Nilekani made a presentation on how UID could help expedite the financial inclusion process.
While this will bring relief to banks, development of the UID database is going to be a long-drawn process in a country with one billion-plus population. Banks might not give up KYC norms any time soon, said another senior public sector bank executive.
"The UID authority made a presentation to RBI in which it said it will play a facilitative role in financial inclusion," K Ramakrishnan, chief executive of the Indian Banks' Association (IBA), told Business Standard.
"RBI also told banks to draw a roadmap for inclusion. This is something the UID authority is working on and will include preparation of standards for micro ATMs, etc," he added.
The authority, set up under the Planning Commission, will provide an identity to every citizen to establish citizenship and address security concerns in this regard. The project is expected to be operational in the next 12-18 months.
The meeting was attended by top bankers like State Bank of India Chairman OP Bhatt; Managing Director and Chief Executive Officer of ICICI Bank Chanda Kochhar; Managing Director and Chief Executive Officer of HDFC Bank Aditya Puri; and Chairman and Managing Director of Punjab National Bank KR Kamath.