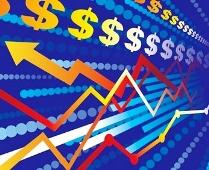 Introduction of goods and services tax would help attain higher gross domestic product growth and pull down prices of manufactured items, but would make farm goods and services expensive, the 13th Finance Commission Task Force on Goods and Services Tax said in New Delhi on Wednesday.
"Prices of agricultural commodities and services are expected to rise," said the report of the GST task force.
"The prices of agricultural goods would increase between 0.61 and 1.18 per cent, whereas the overall prices of all the manufacturing sector would decline between 1.22 and 2.53 per cent," the report added.
Food prices have been relentlessly rising and was over 19 per cent year-on-year in the last week of November.
The switchover to the GST regime from the current tax system would help better allocation of resources and a higher GDP growth.
"The existing tax system introduces myriad distortions which favour some goods and services at the expense of others. These distortions yield inefficient resource allocation and consequently, inferior GDP growth," it said.
The problem of the current tax system could be removed with the switchover to the new tax regime under GST, it said.
Citing economic think-tank NCAER's study, prepared for the commission, the report said, 'implementation of the GST across goods and services is expected . . .to provide gains to GDP somewhere within a range of 0.9 to 1.7 per cent.'
The corresponding change in absolute values of GDP over 2008-09 is expected to be between Rs 42,789 crore (Rs 427.89 billion) and Rs 83,899 crore (Rs 838.99 billion), it said.