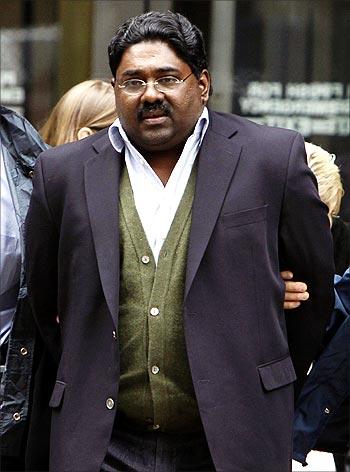 A US federal grand jury has indicted billionaire Raj Rajaratnam, founder of Galleon hedge fund, in a multi-million-dollar Wall Street insider-trading probe.
Sri lankan-born Rajaratnam along with his co-conspirator Danielle Chiesi was indicted on Tuesday on charges of using non-public information from company executives to earn around $21 million in illegal profits, according to the 37-page indictment.
The alleged insider-trading ring operated "from at least in or about 2003 up to and including in or about March, 2009," the 17 count conspiracy and fraud indictment said.
Rajaratnam, now on bail, has said he is innocent. The indictment said Rajaratnam, Chiesi and others repeatedly traded on material, non-public information pertaining to upcoming earnings forecasts, mergers, acquisitions, or other business combinations (inside information).
Rajaratnam, who also allegedly provided financial support to a charity linked to the Tamil Tigers terror group, closed down Galleon after he and five others were arrested in October in what prosecutors said was "the largest hedge fund insider trading case in history."
The Inside Information was given as tips by insiders and others at hedge funds, public companies, and firms -- including Intel, IBM, McKinsey & Company, Akamai Technologies, Inc and Polycom, Inc.
As a result of their insider trading, Rajaratnam, Chiesi and others earned millions of dollars of illegal profits for themselves and the hedge funds with which they were affiliated.
Reports said Rajaratnam now has to make a formal plea in coming days, clearing the way for a trial.
He faces a total of 145 years in prison if found guilty on all charges.
Rajaratnam, the indictment alleged, engaged in overlapping schemes with Ali Far and Roomy Khan -- both of whom have pleaded guilty to insider trading charges and are cooperating with the government -- as well as Chiesi and other co-conspirators to trade on the basis of inside information in several publicly traded companies.
Specifically, these individuals engaged in insider trading in Polycom, Hilton Hotels Corp, Google Inc, Clearwire Corporation, Akamai, Advanced Micro Devices, and PeopleSupport, Inc, it said.
Among other things, telephone conversations between Rajaratnam and Chiesi, intercepted based on court-authorised wiretaps of phones, revealed that he, Chiesi and others routinely received Inside Information directly or indirectly from insiders and provided it to each other for the purpose of trading based on the information.
 For instance, from January 2006 until July 2007, Rajaratnam and others engaged in schemes to trade on the basis of inside information pertaining to Polycom, Hilton, and Google.
He obtained inside information relating to these companies from Khan who, in turn, obtained this information from various inside sources.  Based on trading related to information about these entities, Rajaratnam caused Galleon to earn a total profit of more than $12.7 million.