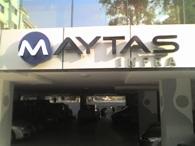 Things went from bad to worse since December 2008 for people who purchased bungalows, villas and apartments at Maytas Hill County, promoted by Maytas Properties Limited (MPL) -- the company run by B Rama Raju (Jr), the younger son of Satyam Computer Services founder and former chairman B Ramalinga Raju.
On the other hand, Maytas Infra has recovered, with infrastructure major IL&FS stepping in to acquire a majority stake. Satyam Computer Services founder Ramalinga Raju had attempted to bail himself out of an accounting scam by buying these two companies which belonged to his relatives. Shareholder ire, however, resulted in an aborted deal and later jail for the Raju brothers.
Maytas Properties had explored several options to get back on its feet. For instance, it partnered with Chennai-based Shriram Properties  to bail out County property buyers. However, neither company has made any announcement till date.
The cash-strapped company also received a setback after a local court passed orders in November, barring it from using land as collateral for loans. PE investors JM Financial and Mauritius-based SRS Orion Investments, which had invested Rs 600 crore in Maytas Properties early 2008, had filed a petition to this effect. The order prevents the company from entering into any agreement with strategic partners to develop projects on its land assets.
But there's a ray of hope for the company. Around Rs 220 crore (Rs 2.2 billion) paid by the owners of Maytas Properties was allegedly diverted to Satyam to pay employee salaries. Return of that money will enable completion of most of the project if Satyam does not challenge its notices.
Meanwhile, Maytas Infra is on a better wicket. Its new promoter, IL&FS, is now setting up its own teams for various segments -- roads, power, BOT and others that Maytas Infra has for business continuity.
The new owner, which holds a 37 per cent stake in Maytas Infra, has now made an open offer to acquire an additional 20 per cent stake (11.7 million shares at Rs 112.8 a share for Rs 132.91 crore) in the Hyderabad-based company on November 25. The open offer ended on December 14.