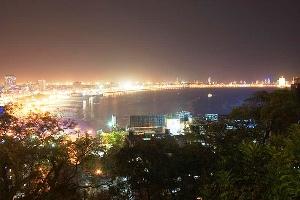 Despite the economic slowdown impacting Bollywood's film business this year, the DAR Capital Group is betting big on the media and entertainment domain.
Having committed an over Rs 650-crore (Rs 6.5-billion) investment across movies and cricket, the international financial advisor and asset management firm plans to produce 11 Bollywood films with a war chest of around Rs 200 crore (Rs 2 billion).
It also plans to fund regional cinema through a Rs 150-200 crore (Rs 1.5-2 billion) fund to be executed over next three years. The move follows its acquisition of theatrical telecast rights of the Indian Premier League from the Indian cricket board for a reported sum of Rs 330 crore (Rs 3.3 billion) for the next 7 years.
To kickstart its investments in the Indian media and entertainment space, DAR has already signed a three-film deal with actor-director Mahesh Manjrekar and the first movie is already underway on the underbelly of Mumbai and the organised crime mafia. The company will make three Bollywood film in 2010, and four each in 2011 and 2012.
"We are currently working on a Rs 150-200 crore (Rs 1.5-2 billion) movie fund which will be launched in the first half of next year. The fund, which have DAR as its anchor investor and we will be purely focused on investing in regional cinema across India," a senior company executive told Business Standard.
Sources say DAR will invest approximately 30-40 per cent of the total fund value that it is working on for the regional cinema.
While its not the first for a private equity firm to invest in Bollywood, experts say it may be among the largest funds generated towards financing main line Bollywood film and regional films.
The Indian film industry releases around 1,000 films in a year of which over half come from Bollywood which attracts an annual investment of over Rs 6,000 crore (Rs 60 billion).
However, while most Bollywood film financing comes from internal accruals and private financers, Bollywood companies also tap banks and financial institutions for film financing, prominent among them are IDBI and Exim Banks.
"The banks have gone slow on film financing due to slowdown and other factors impacting the overall business of Bollywood cinema. Because of this, various Bollywood producers are now looking at private equity funds, organised investors and financial advisors to generate funds," says a senior analyst working for a leading brokerage firm in Mumbai requesting anonymity.
Meanwhile, banks like the Export Import Bank of India (Exim Bank) and IDBI have already indicated going slow on film financing. Exim bank has already provided loans to some of the blockbuster Bollywood films, including Yashraj films like Dhoom, Dhoom-2, Fanaa, Bunty aur Babli and Veer Zaara among others.
But now the bank is going slow on film financing, highly placed sources say. Even IDBI's exposure to film financing grew manifold till 2008-09 with nearly Rs 500 crore (Rs 5 billion) exposures to film financing in 2008-09, up from Rs 100 crore (Rs 1 billion) in 2003. However, now IDBI is also going slow on film financing, sources say.
Experts say this is because the market environment has become increasingly challenging for this sector due to the economic slowdown, cricket impacting theatre collections, and piracy impacting the returns on investments on films.
The film industry, according to the FICCI-KPMG report on the media and entertainment sector, registered a compounded annual growth rate of 17.7 per cent from 2005 (Rs 6,690 crore or Rs 66.9 billion) to Rs 10,930 crore (Rs 109.3 billion) in 2008.
However, this pace of growth is now expected to moderate to around nine per cent or lower for the period up to 2013 when the size of the film industry is estimated to grow to around Rs 16,500 crore (Rs 165 billion).