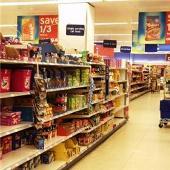 India's retail industry boom gave way to despair in 2009 as consumers held back big spending, forcing some companies to restructure finances, while recession-battered western retail chains would have felt glad they were not allowed to set shop.
Although the United Progressive Alliance government returned to power, minus the push and pulls of Left parties, it decided to keep western multi-brand retail chains off from the country's $450-billion retail market.
But nobody was complaining, as the recession-battered global majors were busy securing existing operations elsewhere.
One estimate suggests that nearly 5,700 retail stores would close down this year in the US alone.
That slowdown had got to the domestic retail trade became evident when one of the earliest players, budget-retail chain Subhiksha, went bust.
Not long after, north Indian chain Vishal Retail went for corporate debt restructuring. Others such as Mukesh Ambani-run Reliance Retail and Kishore Biyani-led Pantaloon went slow on expansion or even downsized operations.
Though the last quarter saw a bit of marketplace confidence returning, overall, the year remained challenging.
There were no estimates, however, of how mom & pop stores fared through the year.
While Indian companies tread cautiously, the world's largest furniture maker Ikea scrapped plans to enter the country, citing government's restrictions on foreign direct investment.
The Swedish retailer was planning to enter the single- brand retail segment, where 51 per cent FDI is allowed but it wanted further relaxation of the rules. The last quarter, around the festive season, saw a bit of consumer confidence returning, with some retailers player announcing expansion plans for the coming year.
The year started with Chennai-based retailer Subhiksha Trading Services Ltd going bankrupt and downing the shutters of all its 1,600 odd stores across the country due to severe liquidity crunch.
With its lenders running for the company's skin and over 5,000 employees on the street, Subhiksha sought a corporate debt restructuring exercise.
But, that remains inconclusive and the firm now faces a slew of cases by its suppliers in the Madras High Court on winding up petitions. Reeling under Rs 730-crore (Rs 7.3-billion) debt, Delhi-based supermarket chain Vishal Retail also went in for a CDR in November. Earlier in the year, it had already halted all expansion.
Even the country's largest retailer, Kishore Biyani- promoted Future Group, faced crunch and went in for restructuring of its operations and merging them under six verticals.
A few months ago it announced plans to hive off its supermarket chain Big Bazaar as a separate entity and list it on the market by end of the current fiscal.
Biyani said the company will open 155 Big Bazaar stores by 2014, increasing its total network to 275 stores.
Besides, its subsidiary, Pantaloon Retail will invest Rs 360 crore (Rs 3.6 billion) this fiscal to add up to 2.4 million sq ft of retail space.
The company had raised Rs 500 crore (Rs 5 billion) in November through Qualified Institutional Placement and is looking to raise some of the money for expansion.
But as the confidence began to return in the last quarter, with the economy showing signs of growth, retail players started unveiling expansion plans for the coming months and years.
Biyani hopes to make Future Group a Rs 25,000-crore (Rs 250-billion) entity with a total retail space of 30 million sq ft. Bharti's single-brand retail chain 'Easy Day' continued expansion across North India.
It plans to have 200 outlets by end of next year, from 70 currently. Koutons Retail, a leading apparel chain, said it will amalgamate various formats under the brand of 'Koutons Family Store' and plans to add another 100 outlets by March.
Shoppers Stop will invest Rs 250 crore (Rs 2.5 billion) in opening 15 new supermarkets in next three years.
The Franchise India 2009 Summit in November saw participation of over 200 Indian and foreign retail players, with many of them unveiling plans to invest big in India.
During the summit, Australia's largest retail chain, Retail Food Group, and Thailand-based restaurant-chain Minor Food Group announced plans for India foray by 2010.
Meanwhile, in wholesale cash-and-carry where 100 per cent FDI is allowed foreign players like Wal-Mart saw fruition of their much-awaited plans.
Wal-Mart, the world's largest retailer which has a joint venture with Bharti Retail, opened its first 'Best Price Modern Wholesale' store in May this year at Amritsar.
The JV plans to open 10-15 hypermarkets by 2015.
However, French supermarket chain Carrefour, which earlier planned to start its wholesale cash-and-carry business by mid-2009, postponed the foray till 2010. The company is yet to announce details of Indian operations.