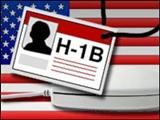 After months of low-key response, the H-1B visa scheme, which was once most sought-after among Indian professionals, is suddenly appearing to be in demand again, with just 800 of the 65,000 slots remaining vacant.
The US Citizenship and Immigration Services (USCIS) said it has almost reached the Congressionally-mandated cap of 65,000.
Now, just 800 slots are to be filled up, according to the latest figures tallied till December 15.
In the last couple of weeks, the USCIS suddenly experienced a rush of H-1B applications. It said that till December 15, it had received 64,200 H-1B applications.
Given the rate at which the USCIS has now been receiving the H-1B applications on a daily basis, officials said it would not be a surprise that they announce that the cap has been reached before the end of this year.
This is after several years that the USCIS will take around nine months to announce that it has reached the Congressionally-mandated cap of 65,000 for H-1B visas and thus would no longer accept it.