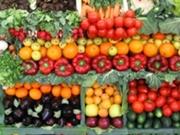 Food prices, that are currently ruling at 10-year high, will start easing from next month, Planning Commission Deputy Chairman Montek Singh Ahluwalia said on Tuesday.
The situation suggests dysfunction in distribution as retail prices have shot much more than wholesale prices and import cannot be done without subsidy as international prices are higher, Ahluwalia said.
"It's a complex situation and cannot be corrected with monetary polices ... prices built up is on speculation post drought. Stocks of cereals are adequate and prices can be moderated and it will be from January," he said.
He said the rise in food prices was a great matter of concern. "There were some increased expectations but for some products like vegetables the increase is excessive."
Food inflation climbed to a 10-year high of close to 20 per cent during the first week of December, driven mainly by higher prices of potato, other vegetables and pulses.
Prime Minister Economic Advisory Council Chairman C Rangarajan had said that the Reserve Bank could reduce money supply and raise interest rate to tame the rising prices of food articles.