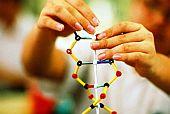 Samir K Brahmachari feels like Bhuvan, the lead character in Aamir Khan-starrer Lagaan. In the blockbuster, Bhuvan cobbles together a team of villagers, who have never played cricket in their lives, and manages to beat a team of professional British cricketers.
Brahmachari, the director general of Council of Scientific & Industrial Research (CSIR), India's premier research organisation, says his colleagues at CSIR have achieved a great feat, just like the Lagaan team, without any international exposure or support. "We have now the competence and capacity as anybody else in the world," Brahmachari adds.
The 57-year-old scientist, who did his doctorate in molecular biophysics and spent most of his career researching the anatomy of human genes, has every reason to be on cloud nine. Last week, his scientists working with the Institute of Genomics and Integrative Biology (IGIB) in New Delhi decoded the genome of a 52-year-old man from Jharkhand after nine weeks of study -- a first in the country. The feat has helped India join a select club of countries -- the US, UK, Canada, Korea and China.
"Genetic sequencing will help in early diagnosis and management of diseases, including cancer. Persons with genetic profiling will get an indication of diseases to come. It is significant because the ability to assemble the genome shows our capability to study the variations in genes and, thus, will revolutionise future disease predictions and treatment methodologies," the CISR chief says.
Partha P Majumdar, professor and head of Human Genetics at the Indian Statistical Institute (ISI), Kolkata says, "Virtually all health conditions have a genetic component. You are 5-10 times more prone to diabetes, if you have a diabetic patient at home. Knowledge of your genetic endowment empowers you to better predict your risk to a common disease."
Agrees Swati Piramal, the global face of India's drug research and director of Piramal Healthcare. "It is a great development as genomics has the potential to bring down the cost of healthcare by offering specific drugs by identifying the gene mutation, and can also predict the onset of a disease. Companies can make more accurate drugs for specific populations."
Simply put, scientists can find precisely what leads to the next damage in one's cells, predict mutations in the gene and can pinpoint the disease that the person may get or the son/daughter will be prone to. Genomic tools and analysis will help to develop personalised medicine or designer drugs for accurate treatment.
K V Subramaniam, chief executive of Reliance Life Sciences, says personalised medicine using genomics is an emerging field in India and, with the diversity of the population, there are advantages in numbers for all biological studies related to this.
Reliance Life Sciences has set up advanced infrastructure and highly experienced research team to conduct high-end molecular diagnostics and genomic studies.
The firm offers high-end molecular diagnostic tests for a patient, to detect and predict cervical and breast cancers and genetic disorders that increase the risk of developing tumours in glands such as parathyroid, pituitary and pancreas.
Currently, scientists at Reliance Life Sciences are working on decoding the oral cancer genome by analysing the single nucleotide polymorphisms (SNPs).
"SNPs are variations at a single site in a DNA and 10 million such variations are there in a human genome. The research is to understand the genetic constitution favoring the development of oral cancer in tobacco chewers, lung cancer in tobacco smokers, heart attack in people with high blood pressure and vitiligo — a chronic skin disorder that causes discoloration in patches of skin," Subramaniam says.
Arun Chandavarkar, chief operating officer of Biocon, says such diagnostic tools may be expensive in the current context, but going forward genomics-based disease detection and therapy based on personalised medicine will bring down the overall healthcare cost. Biocon conducts cutting-edge research on the structure of complex proteins to develop innovative drugs.
Genomic research in the public-private sector is also shaping up in the country. The Centre for Genomic Applications (TCGA) in Delhi is the first such partnership that maintains a multipurpose national facility that provides gene-based research services. Today, it has over 200 clients, mostly universities and research institutes across the country. A collaboration between IGBT and Institute of Molecular Medicine promoted by Kolkata-based Chatterjee Group, TCGA excels in the area of gene sequencing, genotyping, gene expression and proteomics or the large-scale study of the structures and functions of proteins.
The institute is gearing up to offer genomic services to the industry and readying for (Good Laboratory Practices) accreditation for its facilities, says K Narayanaswami, vice president, TCGA.
The opportunities before the institute could be few today, but are going to grow in the coming days. "There are clinical studies in genomics and proteomics. For instance, biomarkers can be used in clinical studies to analyse the safety and efficacy of a medicine in a patient," he says. In medicine, a biomarker is a term used to refer to a protein measured in blood whose concentration reflects the severity or presence of some disease.
Similarly, genomics and proteomics data are being sought along with clinical trial data for many of the latest drug approvals by US drug regulatory agency FDA. TCGA hopes to service the multinational drug firms that are undergoing clinical trials in the country by providing such data.