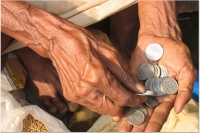 A four-member committee headed by the finance secretary is scheduled to meet candidates for the post of Pension Fund Regulatory and Development Authority chairman.
In the fray are revenue secretary P V Bhide, transport secretary Brahm Dutt and IDBI Bank chairman Yogesh Agarwal. In addition, Devashish Gupta, a Jharkhand cadre IAS officer and West Bengal cadre officer Anil Verma were also in the contention, sources familiar with the selection process said.
Apart from Finance Secretary Ashok Chawla, former chairman of Securities and Exchange Board of India G N Bajpai, Indian Institute of Management (Calcutta) director Shekhar Chaudhuri and personnel secretary Shantanu Consul are the member of the committee.
The sources said the five candidates were shortlisted from those who had applied for the job that fell vacant earlier this month.
While private sector executives could also apply for the job, it was not immediately known how many such candidates put in their applications, though the deadline was extended to the first week of December. In all, around 20 people had applied for the post, said an official.
D Swarup, who headed PFRDA, was responsible for designing and launch of the New Pension Scheme for individuals who were not government servants. Originally, NPS was started for central government employees who joined from 2004 onwards.
Later, state governments also joined the defined contribution-based scheme in a bid to lower their pension burden. However, in the absence of a Bill to provide statutory backing to the regulatory body, the government could not appoint fund managers.
PFRDA came up with a solution that allowed the NPS Trust to enter into service agreements with fund managers and other stakeholders for the launch of the scheme.
The model was extended to non-government employees earlier this year, though the response so far has been muted due to the lack of tax benefits at the withdrawal stage. A Tier-II scheme that allows subscribers to withdraw funds at will was introduced on December 1.
Following Swarup's exit, Financial Services additional secretary G C Chaturvedi is handling the PFRDA chairman's job. Sources said that based on the selection committee's recommendations, a panel of three names would be sent to the government for the final selection.
Among the five candidates, Bhide, Dutt and Agarwal are due to superannuate in 2010. Among the three, whoever is appointed as the regulator can be at the helm for five years.