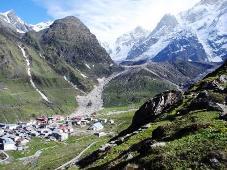 The Uttarakhand government is planning to set up an Indian Institute of Management in Kumaon region of the hill state.
For this purpose, the government has identified two sites -- Escort Farms in the industrial town of Kashipur and Pant Nagar agriculture university. In both the places, vast land is available for a possible IIM, which requires 200 acres.
A central team from the Union ministry of human resource and development has already surveyed the two places and would take a final decision shortly.
Before the concept of an IIM at Escort Farms, spread over 530 acres of land came into picture, the State Infrastructure and Industrial Development Corporation of Uttarakhand Limited had plans to develop a new industrial estate there.
Even if the 200 acres of land is given for the IIM purpose, a top official here said an industrial estate still could be developed on the rest of the land side by side.
According to an estimate prepared by Sidcul, the land cost at the proposed Kashipur estate is likely to be 40 to 50 per cent cheaper than the other industrial areas in Uttarakhand.
The land cost at Kashipur after the development would be around Rs 1,800-2,000 per sq meter, which is far cheaper than other industrial estates like Sigaddi in Kotdwar, where the land cost is Rs 3,500 per sq meter.
Moreover, the revenue through plots sale can also generate an income of Rs 200 crore (Rs 2 billion) for the cash-starved state.
These estimates are based on the DPR being prepared by the Sidcul, which wants to develop an industrial estate for SME units. These estimates are based on the fact that the Sidcul got the Kashipur land from the government free of cost.
On the other hand, the official said Pantnagar agriculture university was also having sufficient land for the proposed IIM. However, the university authorities are opposing the idea of IIM in the premises.