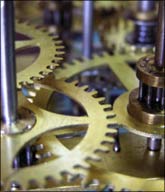 Core infrastructure industries grew by 5.3 per cent in November against meagre 0.8 per cent a year ago, in line with the recovery in industrial growth.
Steel and petroleum refinery products turned the table by expanding 11.7 per cent and 4.9 per cent respectively in November, 2009.
These segments had shown a contraction of 6.3 per cent and 1.1 per cent last year. Cement marginally improved by 9 per cent against 8.7 in November 2008, the official data said.
However, crude oil slipped into the negative territory by 1.6 per cent. The coal sector grew at a lesser pace than last year. It expanded by 3.3 per cent against 9.7 per cent. Electricity growth too dropped to 1.8 per cent from 2.6 per cent.
The six core sector industries contribute about 26.7 per cent to the country's industrial production, which grew by 10.3 per cent in October.