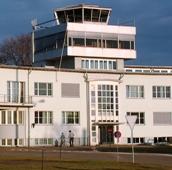 History is being created inside a hangar in Dubendorf Air Base in Switzerland that will radically change the way an aircraft flies.
The prototype of an aircraft, to be propelled entirely by solar power even at night, has already been successfully tested for a 'flea hop' or a short flight.
Scientists and engineers are working full-steam to fly the aircraft around the world for 36 hours through day and night in the spring or summer of 2010, Bertrand Piccard, the driving force behind the Solar Impulse project and its test pilot, told PTI.
"What is being done is not a revolution. We try and open a new path and see what happens. We do not claim that commercial aviation will run on solar energy in the next couple of years. Solar Impulse an attempt to show what can be achieved by renewable energies and new technologies."
The difference between this aircraft and similar ones developed earlier is that this is being developed to fly at night, Piccard, who created a record by being the first to fly around the world in a hot-air balloon, said.
Indian engineers and students have also shown a keen interest in being part of this historic feat but are yet to become part of the 70-member team which is working on making the project a reality, Phil Mundweller, who heads the project's external communications wing, said.
"We receive a few letters every month from Indian students and engineers working on solar or renewable energies. There has been growing interest since we visited Delhi and Jaipur earlier this year," Mundwellar said.
The aircraft, bearing call sign HB-SIA, has a weight of only 1,600 kilos but has a wingspan of 63 metres, length of 21.85 metres and 6.4 metres height.
Its weight can be compared to a family car and the engine power to a scooter's.
It generates power from 11,628 photovoltaic solar cells spread over the wings having a span of an Airbus A-340.
Announcing that the plane would be flown for 36 hours in the next spring or summer, Piccard said it would be flown about 8,000 km each in five legs, having five stops in five continents.
The stoppages would be in Europe, the US, Pacific (probably Hawaii), the Emirates and China. The idea is to take off an hour before sunrise, climb to the maximum altitude of 8,000 metres and not use energy stock in the battery.
When the sun goes down, the aircraft would go down to an altitude of about 1,000 meters to use lesser energy, an engineer at the project site pointed out.
The aircraft has been designed for short take-offs and landings. Its Version-II, to be called HB-SIB, would be built by 2013 to undertake a Trans-Atlantic flight, Piccard said. For Piccard, the project probably means taking forward a family tradition of innovation and adventure.
His grandfather went in a balloon to the stratosphere and his father reached the bottom of the ocean in one of the first submarines.
Image: Dubendorf Air Base