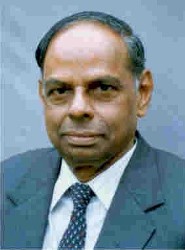 Indian economy will grow between 7 to 7.5 per cent during the current financial year despite poor performance of the agriculture sector on account of drought and floods, said PMEAC chairman C Rangarajan.
"The economy will grow between 7 and 7.5 per cent overall but agricultural growth may fall by 1 to 2 per cent," Prime Minister's Economic Advisory Council chief said while speaking at the College of Defence Management in Hyderabad on the challenges before the Indian economy.
Flagging food inflation as a major concern, he said, 'agricultural growth rate should not fall below 4 per cent for food security as 60 per cent of the population are in rural areas.'
Although the economy did well during the second quarter (July-September) recording a growth of 7.9 per cent, the output of agriculture and allied sector slipped to below 1 per cent.
Food inflation in the first week of December soared to a decade's high of 20 per cent, mainly driven by rising prices of pulses, potato and other vegetables.
Referring to the impact of the widespread drought and devastating floods on the farm sector, Rangarajan said, rice output might decline by 13 million tonnes.
However, he hoped, the rabi (winter crop) would to some extent make up for the shortfall in kharif (summer crop).
Rangarajan, who is a former Reserve Bank of India Governor, also underlined the need for raising cash reserve ratio, the amount that banks keep with the RBI, to contain money supply. The Reserve Bank of India in its review of the monetary policy to be announced on January 29 is expected to take steps to check inflationary pressure.
Buoyed by the 7.9 per cent second quarterly growth, Finance Minister Pranab Mukherjee had earlier said the economy could grow by 8 per cent during the current fiscal, up from 6.7 per cent in the previous year.
PMEAC had earlier projected a growth rate of 6.5 per cent for the current fiscal, but is likely to revise its forecast.
Image: C Rangarajan