The state-of-the-art integrated terminal, called T3, of Indira Gandhi International Airport in New Delhi is poised to be the world's second-largest, after Beijing in China, in terms of size.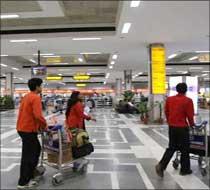 Once T3 starts operations before the 2010 Commonwealth Games in October, IGIA will become the world's sixth-largest in terms of capacity. T3 would increase the capacity of IGIA to 60 million passengers annually, from 23 million after it starts commercial operation in July next year. The airport is expected to increase capacity to 100 million passengers by 2030 depending on traffic growth.
The terminal, built at a cost of Rs 8,996 crore (Rs 89.96 billion), has four boarding piers with 48 boarding gates and 78 aerobridges, which is the highest for a terminal of its size. Three aerobridges would cater exclusively to Airbus 380 aircraft.
T3 also has many firsts to its credit. It would have 89 travelators, eight of which would be inclined - a first-of-its-kind in India. The 118-metre travelator would be the longest in Asia. The terminal would also have 63 elevators and 31 escalators.
The airport is being built by Delhi International Airport Ltd, a consortium led by Bangalore-headquartered GMR, comprising Airports Authority of India, Malaysian Airport and Frankfurt Airport.
The terminal has an eight-storied main building housing 168 check-in areas and 90 immigration counters.
The other floors would have a 60-room hotel, lounge exclusively for industrialists, airline offices, floor for baggage handling and two arrival-departure floors. The airport would also boast an advanced five-level secure in-line baggage handling system with latest security systems.
Building the terminal was not without its share of ups and downs. The consortia had to face Chinese labour problem and alignment issues with Delhi Metro, forcing them to employ as many as 22,000 workers to finish it on time.
"We will complete it (T3) in 37 months, which is much less than the time taken by international airports of this size," said DIAL chief executive officer (airport development) I Prabhakara Rao.
He added that barring a few offices and lounge, the terminal would be ready for commercial operations in July. From March-July, there would be Operational Readiness and Airport Trial with the help of Munich Airport.