In yet another move to increase the flow of Japanese investment into India, visiting Japanese Prime Minister Yukio Hatoyama today assured India's leading industrialists and bankers to look into the option of directly linking the rupee and yen.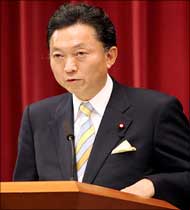 This would allow Japanese companies to invest directly in India, rather than the current norm of coming through Singapore and Mauritius.
A suggestion was made in this regard by U K Sinha, chairman and managing director of UTI Asset Management Company. Sinha told Business Standard: "Currently, Japanese investors face delays in converting the yen into the dollar and then dollar into the rupee. Besides, the Japanese investors face volatility in the Indian markets. Thus, a suggestion was made to link the rupee and yen as a large number of Japanese pension funds and other investors are keen to invest in India. They will come directly instead of coming through Singapore and Mauritius."
Earlier, the Japanese PM held separate meetings with Tata Group chairman Ratan Tata and Reliance Industries chairman and managing director Mukesh Ambani to discuss ways of improving bilateral trade and investments.
Hatoyama's response is crucial when the Japanese foreign direct investment in India trippled to $5.4 billion (nearly Rs 25,160 crore) in 2008 from $1.78 billion (nearly Rs 8,290 crore) in 2007, overtaking the Japanese FDI in China.
The key reason for increasing the momentum of Japanese investments in India is the growth potential of the local market. Japanese automobile and general machinery companies were the most interested in India as an investment destination.
On the other hand, the India-Japan bilateral trade in 2008-09 stood at $12 billion (Rs 55,920 crore), which is a mere one-twentieth of the trade between Japan and China.
Further, Hatoyama agreed for joint efforts by India and Japan in research and development facilities, especially during economic difficulty such as the global meltdown.
RC Bhargava, chairman of Maruti Suzuki, strongly favoured the idea of appointing Indians instead of expatriates at the senior management level in Japanese companies to manage India operations.
Moreover, J P Nayak, whole-time director of L&T, and Hari S Bhartia, co-chairman and managing director of Jubilant Organosys, emphasised the need for more Japanese investments in India's infrastructure companies at a time when India had proposed an investment of $500 billion.
Besides, Japan could tap investment opportunities in power, clean technologies, nuclear energy, energy efficiency, university linkage and human resource development, they said.
Bhartia said Japan can reduce its cost of healthcare by sourcing generic drugs from India. Godrej Group chairman Adi Godrej said there was need of more Japanese investment in India's consumer goods industry.