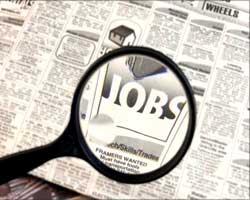 Optimism in the job market has boosted American consumer confidence, with expectations for the short-term future increasing in December to the highest level in two years, a survey says.
According to the survey by business-research organisation The Conference Board, consumer confidence index rose for the second straight month to 52.9 in December from 50.6 in November.
The Expectation index, which measures expectations for the short-term future increased to the highest level in two years -- rising to 75.6 in December from 70.3 last month. The Conference Board Consumer Research Center Director Lynn Franco said, 'a more optimistic outlook for business and labor market conditions was the driving force behind increase in the Expectations Index.'
However, consumers remain rather pessimistic regarding short-term prospects of their income and this is likely to continue to play a key role in spending decisions in early 2010, Franco added.
The outlook for the labor market was more upbeat as percentage of consumers expecting more jobs to become available in months ahead increased to 16.2 per cent from 15.8 per cent. The Consumer Confidence Survey is based on a sample of 5,000 US households. The monthly survey is conducted for The Conference Board by custom research firm TNS.
Meanwhile, percentage of people expecting fewer jobs decreased to 20.7 per cent in December from 23.1 per cent last month. The proportion of consumers anticipating an increase in their incomes decreased to 10.3 per cent from 10.9 per cent.
In the meantime, the Present Situation Index continued to lose ground and remains at a 26-year low, dropping to 18.8 from 21.2 in November.
Besides, consumers' assessment of current-day conditions declined further in December, The Conference Board survey revealed.
Those claiming business conditions are 'bad' rose to 46.6 per cent from 44.5 per cent, while those calling them 'good' decreased to 7.0 per cent from 8.1 per cent.
Consumers' view regarding the job market was mixed. Those claiming jobs are 'hard to get' decreased to 48.6 per cent from 49.2 per cent, while those claiming jobs are 'plentiful' decreased to 2.9 per cent from 3.1 per cent, it added.
The percentage of people anticipating improvement in business conditions over the next six months increased to 21.3 per cent from 19.7 per cent, while those expecting them to worsen fell to 11.9 per cent from 14.6 per cent.