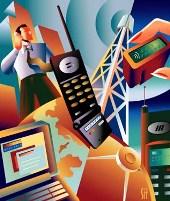 Even as the Telecom Regulatory Authority of India has started investigating into the complaints of predatory pricing offered by some of the new operators, experts are divided over whether the current scenario actually resembles predatory pricing.
Mahesh Uppal, a telecom expert, said, "The term predatory pricing cannot apply here. Only players having a large chunk of the market can be accused of predatory pricing, and that too, if they offer their services below cost to make competitors unviable."
"The pricing offered by new players cannot be predatory as their market share and subscriber base is much lower," he added.
Leading telecom operator Bharti Airtel had approached Trai some weeks ago asking the regulator to look into the 'predatory pricing' offered by new operators.
The 'rock bottom' tariffs were lower than the cost structure for some operators and their business model was unsustainable and needed to be inspected, Bharti had said. The new operators, however, said, "We are offering lower prices through our business model. We have worked out our economics well."
Following the Bharti complaint, Trai had asked some of the other prominent players, including Reliance Communications and Tata Teleservices, seeking details of various plans offered by them. Currently, tariff is under forbearance, leaving it to the market forces.
A senior Trai official said, "As of now, it would be early to say whether the pricing offered by mobile operators are predatory or not."
"Trai would look into the economics of all the tariff plans offered by the service providers, specifically the new players. We should ensure that the mobile consumers are getting a fair deal. On the other hand, we also need to see whether the telecom industry will sustain on this model, wherein prices have come down to a new low," the official added.
Almost in retaliation, the Association of Unified Telecom Service Providers of India, the association for CDMA operators, has accused Bharti Airtel of indulging in predatory pricing.
"We see instances of predatory pricing where large incumbent operators offer highly subsidised on-network (within the operators' own network) calling rates. A similar proposition by smaller players is not as attractive due to their limited subscriber base," Auspi secretary general S C Khanna said.
Romal Shetty, a telecom analyst with consultancy firm KPMG, said, "Both new and existing players are offering tariffs at a very low price.
"The pricing war was started by new operators as they wanted to grab more and more subscribers. But, this business model is not sustainable, and would impact the telecom industry in the long term."