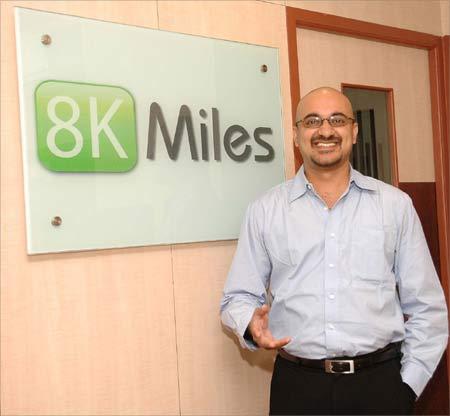 8KMiles, an online ecosystem founded by Dr Suresh V Chari, Harish Ganesan, Padmanabhan Raghavan, and Praveen Aravamudhan, was incubated by the Nadathur S Raghavan Centre for Entrepreneurial Learning (NSRCEL) at IIM Bangalore.
The world envisaged by 8KMiles founders is a virtual one where companies that are in need of professionals, and professionals who are in need of work, meet.
In this new virtual world, people from anywhere in the world can meet and get their work done and also get work.
Harish Ganesan, co-founder and the chief technology officer, talks of this unique initiative.
What is 8KMiles?
When we found that there are many small- and medium-sized companies that are looking for IT professionals from India and the United States but do not know how to outsource work to the right people, we thought, why not connect these two?
We developed an online ecosystem where we connect knowledge professionals with small- and medium-sized IT companies, start-ups, etc.
Why the name 8KMiles?
It is after a lot of thought that we decided on the name 8KMiles, which is 8000 miles. It is the approximate equatorial diameter of the earth from anywhere. It is also the distance between Bangalore and Los Angeles.
As we are trying to connect people who are positioned anywhere in the world, we thought this name was very apt.
The name has helped us a lot as people are curious to know what it means.
Incubation by IIM-B
With the idea, we approached IIM, Bangalore when we came to know that the NSRCEL cell of the campus incubates companies. What interested the NSRCEL cell was the social objectives we put forward; that of involving women and rural youth in the growth process.
The social objectives
We also thought of the women professionals who are not getting a chance to be a part of the changing professional environment because of various personal reasons, and also those who live in the rural part of India. Just because these professionals are far away from the metros, they are unfortunately denied a chance. In our model, where you are placed is immaterial.
We found that many qualified rural youth who are sitting in say for example, places like Salem, Nagercoil, Madurai, et cetera, but cannot find a job there.
One thing they lack is good communication skills. Otherwise, they are very good techies. Then we thought, how do we address them? We felt they could form a team and those who could communicate could be the manager and those who are good in technical knowledge could do that.
Women professionals find it difficult to work in an office after childbirth. Taking a break from work also is harmful to their career. We thought what we offer is the best thing that can happen to a woman professional.
Within a month of our launch, 1,500 people have registered and we find that 30 per cent of our registrations are by women and another 40 per cent are from rural India.
We don't have a target that so much percent of our people should be women and/or rural people. We will also be happy if all of them are from rural India.
Though involving women and rural youth is a part of our social obligation, we don't look at it purely as a social responsibility as we run a business. It is a good business proposition which offers the companies cost effective solutions.
How does 8KMiles function?
We have an ecosystem, one side of which has IT professionals, and knowledge workers registering on our system. On the other are those who are looking for professionals to get their work done. We connect these two. We act as a market place where we bring these two groups together.
We, at 8KMiles are particular that all those professionals who want to register on our site have to upload their photos. When we conduct an interview via videoconferencing, we cross check the identity of the person.
This verification is important as it is also our reputation that is at stake. Once the verification is done, an online test is given to test their knowledge. What we follow is exactly what is done in the real world. Then, the professional is registered on our site.
On the other side, we have registered companies looking for people to do work. They choose people from us. What we get is 7.5% commission.
In the first month, we have had 15 projects from India, the United Kingdom, and the United States. We see lots of projects coming from India itself as there are a lot of small entrepreneurs who need people.
Like in eBay, after the work is done, companies rate the professionals which also will be displayed on our site.
Future
We see this as the future model - utilisation of the virtual world - in the next 5-10 years or so. The top companies from the US outsource their work to the top Indian companies like TCS, Wipro, etc. But there is a huge number of small- and medium-sized companies in the US who need outsourcing to remain competitive.
Outsourcing will be in billions of dollars. In a competitive environment, working in the virtual world is the cheapest.
There are also many people who prefer working at their own convenience from anywhere in the world because of the heavy traffic and other problems that you face in many big cities.
So, we see the model we have developed as a huge market and we are going to be the largest virtual employers.
Image: Harish Ganesan, co-founder and chief technology officer, 8KMiles. | Photograph: Sreeram Selvaraj