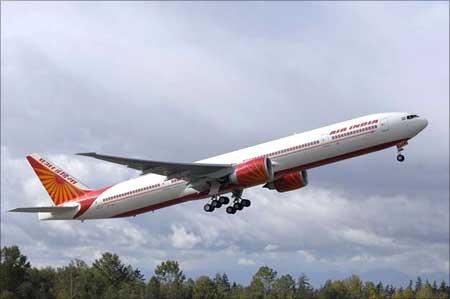 Founded by J R D Tata in 1932 as Tata Airlines, today, it is the 16th largest airline in Asia, serving 28 destinations worldwide.
While you get no brownie points for guessing the name of the airline, the financial mess that Air India finds itself in is only too well known.
The management contemplated slashing employee pay and faced staff ire and strike threats. Finally, the government promised to bail out the airline but put 'strict' riders. One of them being a total overhaul of the airline - from employee strength to fleet rationalization.
Unprecedented liquidity crunch, high oil prices, widespread economic gloom, declining passenger traffic, skills shortage, and overcapacity are squeezing the life out of India's state-run flagship airline.
Air India, which has one of the highest number of employees per aircraft is losing Rs 14-15 crore (Rs 140-150 million) every day due to declining passenger traffic and low airfares vis a vis the airline's costs. Its employee cost currently is over Rs 3,000 crore (Rs 30 billion)
The company also has an ambitious fleet-acquisition programme running since the past two years, which will see the induction of as many as 111 new aircraft worth over Rs 45,000 crore (Rs 450 billion) till 2012 from both the US-based Boeing Aircraft Company and Airbus Industrie.
Interestingly AI has a puny paid-up capital of Rs 145 crore (Rs 1.45 billion) and authorised capital of Rs 1,500 crore (Rs 15 billion) for these aircraft.
The committee, which has been directed to discuss cost rationalisation and reduction of wasteful expenditure with employees' unions will submit its report by July 15.
Should taxpayer's money be used to save a profligate airline? Is the government handling the crisis the right way?
If you have a suggestion, feel free to
share it
with our readers.