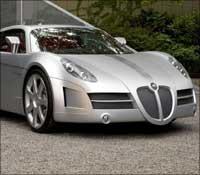 The British government won't guarantee the much-awaited pound 340 million loan for Tata Motors' luxury car maker, Jaguar Land Rover, unless it has a say in the company's future plans.
Business secretary (minister) and head of the Department for Business, Enterprise and Regulatory Reform, Peter Mandelson, has made this clear, according to The Sunday Telegraph. The loan is from the European Investment Bank and is urgently needed by JLR, which has been making huge losses for the past 18-odd months, since Tata took control of its ownership.
Prolonged negotiations have been on between Tata Group and the UK government over the conditions the former must accept to secure the loan guarantee. According to this report, that cites its sources as "people close to the situation", Tata is yet to give its response to this revised insistence by the UK government.
Responding to the report, a JLR spokesperson said: "Talks are continuing between the government and our parent, Tata Motors, around the loan guarantees, but we have no further comment to make."
Ever since the loan from EIB was approved in early April, the UK government has been indicating it wants a say in JLR's future business plans, while Tata Motors have sought complete freedom in running JLR, without any operational intervention from the state.
JLR's CEO, David Smith, in an interview to Business Standard last week, had said his company does not wish to offer a board berth to the UK government, and the loan guarantee would be accepted only on "commercial terms," just as it would accept from any other lender.
Though the UK government is said to have come to terms with the counter-offer and not insist on a board berth, it has sought a say in participating in the business plans that Tata Group may chalk out for the revival of JLR.
Though JLR is scouting for fresh funding to smoothen its cash-strapped operations, the loan from EIB is considered vital for its future research and development, particularly in the area of developing "green cars" that can strengthen its competitiveness in the European car market for the low-emission cars of the future. Smith had also said that while JLR awaits the UK government's guarantee, the company is close to securing fresh funding from the Indian banking system as well.
Lack of money to run its operations has already taken a toll on its balance sheet. Due to falling demand for premium and luxury cars globally, JLR had reported a loss of Rs 2,400 crore (Rs 24 billion) for the 10 months ending March 2009.
This loss coincides with the period Tata Motors came to own it. In recent public statements, TM's vice chairman and former managing director, Ravi Kant, had said he was hopeful of JLR's turnaround in two years.