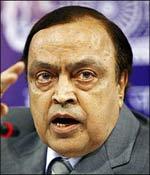 Amidst the legal battle between Reliance Industries Ltd and Reliance Natural Resources Ltd over gas from Kaveri basin, Petroleum Minister Murli Deora has hit out at the Ambani brothers for fighting over a natural resource that belongs to the government and the people of the country.
"I am personally appalled and disgusted at how these two brothers are fighting over something that belongs to the government and the people of India," Deora said, adding, "It does not belong to them."
Incidentally, Anil Ambani has written to Prime Minister Manmohan Singh virtually accusing the oil ministry of doing a volte-face on gas pricing, saying its stand in the Supreme Court was in total variance with what it had said in Parliament.
Seeking protection against what he called the overt and covert attempts and 'partisan and biased approach' of the petroleum ministry to intervene in a commercial dispute with RIL, Anil wrote to Prime Minister Manmohan Singh offering to meet and explain the issues.
The government in a separate petition filed last week in the Supreme Court has asserted its rights to fix gas prices and its utilisation.
Deora's remarks come hours after petroleum secretary R S Pandey comments on the gas dispute which invited a sharp reaction from Reliance Natural Resources.
"I am very, very clear that the natural resource gas -- like any other resource, iron ore, uranium or coal -- belongs to the government and not to Ambani brothers," Deora said.
RNRL lambasted Pandey's comments, saying the government's petition is yet to be entertained in the Apex Court.
Pandey said the government has not let Reliance Industries get off the hook, for signing a private memorandum of understanding with a firm run by Anil Ambani to divide entire gas volumes from KG basin fields and thereby holding industrial development to ransom.
The Mukesh Ambani-led RIL and Anil Ambani-led RNRL are fighting over price and terms gas supply from KG basins.
Image: Union Petroleum Minister Murli Deora.
Photograph: Reuters