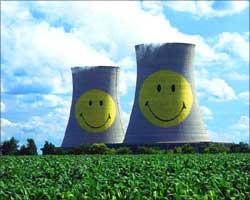 India is committing Rs 1,80,000 crore (Rs 1,800 billion) for the production of 30,000 Mw of nuclear power by three countries - Russia, France and the US - a significant bait that New Delhi has cast in the interests of gaining access to sensitive Enrichment and Reprocessing technologies and stabilising its fears over energy insecurity.
Meanwhile, the government is aiming to hand over its separation plan of safeguarded nuclear facilities to the International Atomic Energy Agency towards the end of this month, to assuage US concerns that these plants will only use sensitive ENR technologies to reprocess spent fuel from these plants.
After a five-day visit to India, US Secretary of State Hillary Clinton is flying to Thailand to participate in meetings with the Association of the South-East Asian Nations (Asean), with Prime Minister Manmohan Singh's commitment to buy 10,000 Mw of civil nuclear power from US companies ringing in her ears.
While the two sites in Gujarat and Andhra Pradesh that are being allocated to the US companies have not been named, they are expected to be based in Saurashtra in Gujarat and either Kowada or Pulivendula in Andhra Pradesh.
Meanwhile, according to a Nikkei newspaper report from Tokyo, Westinghouse Electric Co, owned by Toshiba Corp, and the joint venture GE-Hitachi, are likely to win the US contracts.
Since the US companies are significantly Japanese-owned, and the Japanese public remains enormously sensitive to nuclear matters, the issue of reprocessing spent fuel will have to be addressed before the US-Japanese companies can set up shop in India.
India's civil nuclear market was thrown open after the Nuclear Suppliers Group gave India a "clean exemption" to conduct nuclear trade worldwide last September. But despite a G-8 statement in Italy last week preventing countries who have not signed the Nuclear Non-Proliferation Treaty - like India - from accessing sensitive ENR technologies, Finance Minister Pranab Mukherjee stated that India was not unduly concerned since it was going ahead with separate agreements with countries like France and Russia. So far, India has committed to buy 10,000 Mw each from India, Russia and France and hopes that the nuclear reactors will materialise in the next 25 years.
Besides the deals with Russia and France, framework nuclear agreements with Canada and the UK are on the cards. A pact with Kazakshtan, on the supply of nuclear fuel and technology was signed when Kazakh president Nursultan Nazarbayev came to Delhi as chief guest for the Republic Day celebrations.
All three nuclear trade pacts, including the one with the US, have varying degrees of private participation, with the state-owned Nuclear Power Corporation of India being the end-user in each case.
The Indo-Russian inter-governmental agreement, signed when Russian president Dmitry Medvedev came to Delhi in December 2008, commits Atomstroi, a fully state-owned undertaking, to manufacture four reactors of 1,200 Mw each (in addition to the two that were already being built) in Kudankulam, Tamil Nadu.
The Indo-Russian agreement also talks of a "future site" for additional reactors that has not been identified so far.
With France, Areva, a French company with an overall government stake of about 84 per cent, will first build two European Pressurised Reactors nuclear reactors of 1,650 Mw each, going up to six reactors, at Jaitapur in Maharashtra. Areva has also promised a lifetime of fuel supply for the reactors.
Areva chairman Arthur de Montalembert, in an email, refused to answer questions relating to income, profit and revenue, citing a confidentiality clause with NPCIL.
In February, India also promised to buy 2,000 tonnes of nuclear fuel worth $700 million from Russia to power its fuel-starved indigenous reactors, of which the first instalment has arrived last week. Last December, India also committed to buy 300 tonnes of nuclear fuel from France.