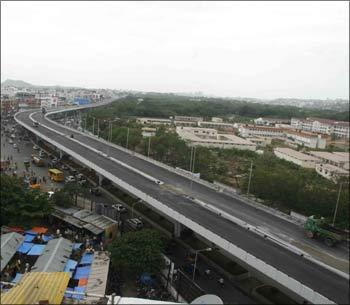 The 11.66-km-long P V Narasimha Rao Elevated Expressway Corridor in Hyderabad is claimed to be the longest flyover in India.
It starts from SD Eye Hospital at Mehdipatnam (a major suburb in Hyderabad) to Aram Ghar Crossroads at Shivrampally, has been constructed at a cost of Rs 493 crore (Rs 4.93 billion).
Named after former prime minister P V Narasimha Rao, it is likely to be inaugurated soon.
The construction of the four-lane flyover was a joint venture between Simplex Infrastructure and Somdatt Constructions.
Overseen by the Hyderabad Urban Development Authority, the flyover connects the heart of the city to the new international airport at Samshabad.
Image: The 11.66-km-long P V Narasimha Rao Elevated Expressway Corridor is the country's longest flyover.  Photograph: Snaps India