Planning Commission Deputy Chairman Montek Singh Ahluwalia, on Wednesday allayed fears over significant hardening of interest rates in view of the high government borrowings, pegged at around Rs 4.5 lakh crore (Rs 4.5 trillion) this fiscal.
"I think the only fear we will have is that the fiscal deficit is high. It is not going to be high. It would be brought down next year. In view of that, I don't expect to see any significant hardening of interest rates", Ahluwalia said.
"This fear of interest rate hardening is actually based on an area concerned about the size of fiscal deficit, I think the fear that the fiscal deficit will remain high in subsequent years is not correct," he added.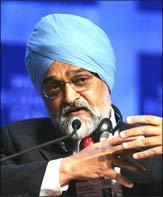 The Budget has made it amply clear that there are good reasons why fiscal deficit is high this year. It would come down next fiscal and come down again a year after, he said.
The Fiscal Responsibility and Budget Management (FRBM) papers has projected fiscal deficit to come down to 5.5 per cent next fiscal and 4 per cent a year after against 6.8 per cent estimated for the current fiscal.
"A lot of this fear about rising interest rates is the expectation that the government will keep on borrowing."
"I think, this year borrowings will not crowd out anybody for the simple reason. All the data which we have suggests that the investment this year is below normal. . . investment is not taking place at the rate at which it is taking place a year ago. That means there is room for the public sector to increase the fiscal deficit," he said.
Since Lehman Brothers collapsed in the middle of September last year, the RBI has cut short term lending rate (repo) by 4.25 percentage points and short term borrowing rate (reverse repo) by 2.75 percentage points, signalling lower interest rates in the market.
Banks have cut their lending rates, but not to the extent that Reserve Bank of India measures have intended. Now, certain quarters fear that interest rates will keep rising following huge market borrowings by the government and little money will be left for private players in the market. It is this fear that Ahluwalia sought to allay.
Image: Planning Commission Deputy Chairman Montek Singh Ahluwalia.
Photograph: Reuters