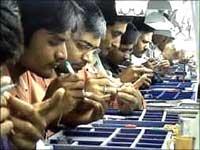 The Rs 50,000-crore (Rs 500-billion) Surat diamond industry, which had laid off thousands of workers in recent months to cope with the downturn, is now facing an acute shortage of skilled manpower. And that too at a time when demand for diamond jewellery is reviving.
Once bitten, twice shy, the laid-off workers, many of whom had switched to sectors like textile and agriculture, are apprehensive about returning to diamond processing.
Before Diwali last year, there were about 3,000 diamond cutting and polishing units with a 600,000-strong workforce.
However, soon things changed and about 95 per cent of these units downed their shutters as the global economic recession hit export demand for diamond jewellery, especially from the US and the European Union.
The axe naturally fell on the workers of these units.
According to an industry estimate, about 200,000 workers left Surat before Diwali and another 200,000 switched to other industries.
Thus, the diamond industry was left with barely one lakh highly-skilled workers till February-March 2009.
Between April and July so far, the industry has managed to re-appoint hardly 10-12 per cent of the lost workforce.
"Now since jewellery demand is reviving, the shortage of skilled manpower is hurting the industry," said Pravin Nanavati, joint secretary, Gujarat Heera Bourse.
Since these labourers largely hailed from West Bengal, Bihar and other north-eastern states, calling them without adequate assurance of job security was a major problem, he added. According to an industry official, there were enough positive signs now. The most important one being the steady improvement in sales since March this year, he added.
The revival in the diamond jewellery sector is evident from the overbooking of stalls by Indian and overseas exhibitors at the largest show of the Asian region -- India International Jewellery Show 2009. The show has over 60 aspiring exhibitors on the waiting list after booking of about 1,600 stalls.
Meanwhile, diamond miner De Beers has raised by 15 per cent the price of rough diamond from sites announced recently for July allocation.
Since the impact of rough diamond price movement on finished jewellery takes at least three months to be felt, only the next lot of finished jewellery will reflect the price rise, said Vishal Doshi, group executive director, Shrenuj & Company Ltd, one of the largest jewellery producers and exporters in India.