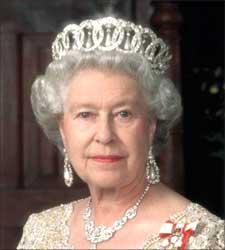 The global economic slowdown has not spared British Queen Elizabeth II as the value of her private estate fell by 19 per cent in 2008-09 due to a crash in property and investment markets.
The Queen lost almost pound 75 million as her estate's value went down to pound 322 million.
However, the income the Monarchy received from the Duchy, which is used to fund her public and private activities, increased by 5.4 per cent from pound 12.6 million to pound 13.3 million.
"We have suffered a substantial fall in the capital value of our assets during the year, principally in the commercial property and financial investment portfolios, Lord Shuttleworth, chairman of the Duchy's council, said in a statement on Thursday.
"Against that, we have achieved an increase in the net surplus, delivering pound 13.3 million to the Keeper of the Privy Purse.
"In the year ahead, it will be hard to maintain, let alone grow, the income, with slow take up for empty commercial space, and a heightened risk of tenant business failure," the statement said.
The Privy Purse is the name given to income from the Duchy of Lancaster which invests its funds in four sectors: agriculture, residential, commercial and financial portfolios.
The commercial property sector makes up more than a third of the Duchy's investments and its value fell from pound 155 million in 2007-08 to pound 118 million in 2008-09.
The investments in the agricultural sector have weathered the financial downturn with the report stating there was a 'minimal reduction' in their value.
Almost 15 million pounds were taken out of the financial portfolio in a defensive move against uncertainty in the financial markets and to pay for property refurbishments and new buildings.
But income from investments still fell from 5 million pounds to 3.4 million pounds. During the last financial year, the total cost to the taxpayer of keeping the monarchy increased by pound 1.5 million to pound 41.5 million.
© Copyright 2021 PTI. All rights reserved. Republication or redistribution of PTI content, including by framing or similar means, is expressly prohibited without the prior written consent.