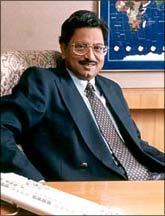 After charge-sheeting Ramalinga Raju and others in the multi-crore rupee accounting fraud at Satyam, the Central Bureau of Investigation is trying to ascertain the role of 'hawala' operators who allegedly brought in crores of rupees from abroad.
CBI sources said involvement of hawala operators had surfaced during its probe in Satyam fraud since a lot of money was siphoned off from the company and parked in tax havens.
The same money is alleged to have been brought back into the country through non-banking channels, they said.
The Economic Offences Wing of the CBI is looking into the role of alleged illegal money laundering network with the help of other agencies, including Enforcement Directorate and market regulator Sebi in India, and abroad.
Hawala is a term to define illegal exchange of money, including through non-banking channels.
The CBI sources alleged Raju had fraudulently increased the number of employees in its offices in India and abroad thus giving broader scope for the use of hawala network.
The United States Securities and Exchange Commission, the federal agency to regulate the securities market in that country, has also sought India's permission to probe the fraud.
SEC, which is Sebi's counterpart in the US, has been probing the fraud at Satyam in that country including involvement of hawala operators, as Satyam Computer is listed in the New York Stock Exchange.