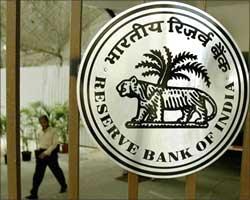 The RBI said on Monday it has ensured ample liquidity in the system through a series of rate cuts in the last 10 months, hinting that it may keep policy rates unchanged in its quarterly credit policy review tomorrow.
The comfortable liquidity resulted in pick-up in economic activity, evident from the central bank revising growth forecast upwards to 6.5 per cent for FY'10 from the 5.7 per cent it had estimated in April.
"Since mid-September 2008, the policy repo (overnight lending) rate has been reduced by 425 basis points, the reverse repo (borrowing) has been brought down by 275 basis points" resulting in liquidity injection of over Rs 5,61,700 crore (Rs 5,617 billion), RBI said in its macro-economic report released a day ahead of its first quarterly credit policy review.
"These measures taken by the Reserve Bank have ensured availability of ample liquidity in the banking system. . . evident in the large and regular absorption of the surplus from the system through liquidity absorbption facility."
It said its focus has been on providing ample rupee liquidity, ensuring comfortable dollar liquidity and keeping the market environment conducive for credit flow to productive sectors.
RBI noted that core infrastructure sector growth accelerated to 4.8 per cent in the first quarter against 3.5 per cent a year ago, led by growth in electricity, cement and coal, while industrial output rebounded sharply. 
Services sector too showed positive signs, with a surge in lead indicators such as railway freight and new mobile connections, besides improvement in tourist arrivals.
However, commercial vehicle production and port cargo movement decelerated in the first two months of this fiscal.
Overall, the corporate performance subdued and there was a substantial deceleration in sales growth in the second half of 2008-09. "Corporate profitability also exhibited negative growth in the last three successive quarters of the year."
The central bank said the existing financial conditions are necessary, but not enough to fuel a global recovery.
On government pegging fiscal deficit at 6.8 per cent in FY'10 to boost demand and support a faster recovery, RBI said: "Notwithstanding the necessity of an expansionary fiscal response to the growth slowdown, there is a need to address the challenges for fiscal consolidation with a view to returning to the high growth path at the earliest."
The RBI Professional Forecasters Survey pegged economic growth in FY'10 at 6.5 per cent.
RBI said that the growth outlook for 2009-10 needed to be assessed in the context of lead indicators so far, which it named as improved core sector performance, industrial output, demand revival for non-food credit and corporate showing.
However, it warned that there were other factors that could dampen growth outlook such as delayed progress of monsoon, decline in exports and lagged impact of poor manufacturing output of last fiscal.
The slow progress of monsoon up to end-June 2009 has affected the Kharif sowing, which could have implications for agriculture production.
The rainfall in July so far, however, has improved enabling better sowing position as on July 17 for pulses, oilseeds and coarse cereals at close to last year's level, though paddy sowing still remains substantially below last year's level.
During 2008-09, the lower Kharif output was made good by the Rabi output, as a result the overall farm output was positive.
On inflation, which was (-)1.2 per cent as of July 11, RBI said there were indications of flare up by the end of this year due to waning base effect of last year, increase in commodity prices, delayed progress of monsoon potentially driving up food prices and impact of fiscal deficit.
"Inflationary pressures may remain moderate if the protracted global recession leads to dampened commodity prices, agricultural growth remains unaffected despite the delayed progress of monsoon and accommodative monetary policy stance returns to normal level," the central bank said.
RBI quoted the Professional Forecasters Survey sponsored by it to say that inflation would average 5.4 per cent in 2009-10.
"India's structural growth impulses continued to remain strong, given the high domestic savings rate, sound financial system and growth supportive macro-economic policy environment," RBI said.