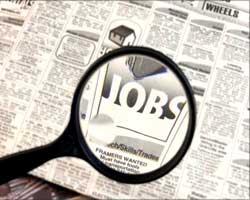 The job market has begun to show signs of a revival led by sectors like telecommunication, pharmaceutical, life sciences and financial services. Human resource firms claim there are more vacancies now than a year ago when the slowdown first set in, though these are way below past peaks.
TeamLease Services managing director Ashok Reddy said that the demand for temporary employees had gone up nearly 100 per cent from the earlier levels.
"On an average, we have over 3,000 vacancies now, against the peak of 8,000 to 10,000 in 2005 and a low of 1,400 some months ago. Sectors like telecommunication, financial services, fast-moving consumer goods and IT to some extent have enough openings that need to be filled."
"There's a marginal improvement in the job market. But since larger job markets like the US and Europe are still under pressure (several large employers are headquartered there), it's too early to say anything," Ma Foi Management Consultants chief executive officer and director E Balaji added.
He attributed the marginal improvement in demand to opportunities in sectors like pharmaceutical, life sciences, healthcare and power which have not borne the brunt of the slowdown.
With the government-sponsored stimulus in place, employers expect the economic environment to improve and have therefore begun to hire. Several of them had cut their rolls sharply at the first sign of the slowdown. And low salary expectations have helped.
"Organisations are looking at it as the right opportunity to get the right people at the right cost. While hiring is not back to normal, strategic hiring for special skills is going on across the sectors," said Hewitt Associates Practice Leader Sandeep Chaudhary.
Job portals like Monster.com and Naukri.com affirmed the observation.
"Between March and December 2008, there was a 30 per cent fall in total opportunities, while January-March 2009 was stable. However, now there has been almost 10 per cent growth in opportunities available on the website in terms of job listings," said Monster.com (India, West Asia and Southeast Asia) managing director Sanjay Modi.
The company said it expected this trend to continue and had registered 45,000 users now, up from 38,000 in December last year. "Jobs in information technology, business process outsourcing and telecommunication have come back and we expect education to remain the largest employer this year," Modi added.
"We perceive a positive sentiment among recruiters. Most companies are now doing replacement hiring," said Info Edge (which runs Naukri.com) National Head (marketing and communications) Sumeet Singh.
A new survey by Naukri.com, specific to Mumbai, found that hiring activity in the city picked up by 13 per cent in June 2009 as compared to May 2009.
Banking and financial services saw an increase of 22 per cent in June as compared to May. Hiring for information technology professionals was also back in action with an increase of 12 per cent in June.
On a national level, the Naukri.com JobSpeak index at 718 showed an uptrend in hiring activity by 8.1 per cent as compared to 664 in May 2009.
It is the highest upward movement since July 2008, indicating the return of the hiring sentiment.
However, human resource experts said one should exert caution before uncorking the champagne. They said it would be clear in another two quarters if the trend would hold in the long run.
Companies are looking at greater fitments for any open position and not willing to just about take anyone for the job.