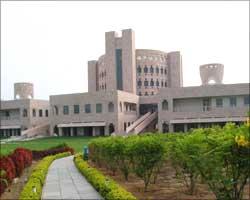 The economy is yet to recover and it's evident at management institutes where the pre-placement scenario is still sluggish.
It's nearing the end of July and time for Indian B-schools to start getting pre-placement offers or pre-placement interviews from companies.
No one, however, is shouting 'hurrah' as yet.
The reason is not hard to fathom. The effects of a global economic slowdown are still showing up, and export-oriented sectors like IT companies -- which have traditionally been major recruiters both for management and engineering schools -- are yet to emerge from the woods and have frozen their hiring plans currently. Thus, say observers, there's bound to be a drop in the hiring of campus freshers and laterals (experienced hands) too.
At the Indian Institute of Management-Khozikode, for instance, companies haven't really started approaching the institute for placements this year as it is still very early in the year, says the institute's placement committee.
There has been the odd company here and there that has expressed interest, but nothing substantial to comment on the composition of the companies.
"Students are now interested in varied industry segments, ranging from the traditional corporate finance and investment banking roles to exploring avenues in media, entertainment and non-profit organisations," opines a member from IIM-K's placement committee. Salary has taken a back seat and many students have given up high-paying jobs to secure a career in a field and role of their choice.
At XLRI Jamsehdpur, students this year are optimistically cautious of the opportunities they would like to explore as things are starting to get brighter.
Although the last year was a downside, students this year are looking forward to roles in the banking and finance sector (treasury in addition to retail and commercial banking roles), sales and marketing roles in the FMCG sector and General Management roles in big conglomerates.
Companies like the traditional recruiters in the fast moving consumer goods sector, finance and banking, and general management sector and niche consultants apart from the regular consulting firms have started showing their interest to hire students from XLRI Jamshedpur as a part of the Summer Internship Programme to be held later this year.
Students who interned with established brands from the FMCG and general management sector have been offered PPOs.
"Given the fact that the batch size of the flagship programme has doubled, companies are showing renewed interest to create a brand on campus. Other sectors showing some interest are some boutique consulting firms and the banking and finance sector," says Tushar Walwadikar, Secretary-Placement Committee, XLRI School of Business & Human Resources.
"Salary this year, as in the recently-concluded recruitments for the batch of 2009 would be more of a hygiene factor as students understand that this is not exactly the best of times and thus the focus this year would be to land the best profiles and choose the right career path so that they accelerate their career as the economy starts to get back to normalcy," adds Walwadikar.
At FMS Delhi, the current batch of 310 students has received 6 PPO/PPIs so far with quite a few more expected soon. Traditional recruiters and big business houses like TAS, Coca Cola, among others and FMCG in particular apart from banks are the sectors where students are showing greater interest.
The premier Indian Institute of Management Bangalore, on its part, expects this year to be better for students' placements as compared to last year as the economy has started to recover from the global financial crisis, according to Professor Pankaj Chandra, director IIMB IIM-B.
Like other IIMs, it saw fewer financial and banking companies in the placement season this year. Also, the number of jobs that each company came with, were relatively lesser.
Anwar Ali, director of IMT Ghaziabad, said that owing to the current economic scenario, students are trying to keep their options open and willing to take up diverse profiles in sectors like education, hospitality and PSUs.
A few companies from sectors like consultancy and manufacturing are approaching IMT for recruitments to fulfill their current requirements.
"Going by the past trends, companies start approaching IMT with pre-placement offers around early September. This year we are expecting an official confirmation of the pre-placement offers around September," adds Ali.
Image: Indian School of Business, Hyderabad