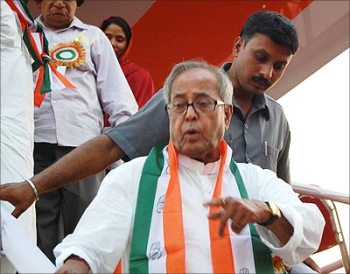 The economy is expected to maintain a growth rate of 6.7 per cent in 2009-10, same as last fiscal, as some signs of pick-up are visible, finance minister Pranab Mukherjee said on Wednesday.
"We have ended 2008-09 at 6.7 per cent. I do hope, this level of growth, we will be able to maintain (in 2009-10)," he said while commending the Finance Bill in the Rajya Sabha.
He said although some signs of recovery are visible, it is too early to point out that whether they would be steady.
Mukherjee hoped the stimulus, both in terms of financial concessions, fiscal policy and the monetary measures announced by RBI, will have its 'desired impact'.
The finance minister said the early signs of improvement in the Indian economy are seen despite no big recovery visible in the global economy.
He said trillions of dollars would have been injected in Europe and North America. "But there is no immediate restoration of the (global) economy," he added.
Image: Pranab Mukherjee. | Photograph: Dipak Chakraborty