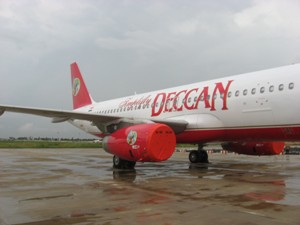 When budget carriers like Air Deccan and Spicejet began flying, both, Jet Airways chairman Naresh Goyal and Kingfisher Airlines chairman Vijay Mallya said the model will not work in India.
Six years later, Mallya has moved 70 per cent of his planes to an all-economy class service, Kingfisher Red, after acquiring Air Deccan in 2007.
Goyal, who has shifted a third of his capacity to an all-economy class service, Jet Airways Konnect (started in May), plans to shift 70 per cent capacity to this service by October. If you include Jet Lite, Goyal has already moved 50 per cent of his planes in the no-frills mart. Next, Air India plans to launch Air India Express' low-fare service on domestic routes.
Low cost carriers have 55 per cent of the market, up from 45 per cent in Q1 last year, and 30 per cent two years back. Does it mean India really is an LCC market? The performance of the airlines also seem to suggest that. While budget carrier Spicejet announced a small profit for Q1, all the big boys in the industry seem to be in trouble.
While Spicejet made a net profit of Rs 26.3 crore (Rs 263 million) in the quarter ended June 30, 2009, Jet Airways and Kingfisher have reported a net loss of
Rs 225.31 crore (Rs 2.25 billion) and Rs 242.71 crore (Rs 2.42 billion) on declining yields at home, while Air India has sought a Rs 20,000 crore (Rs 200 billion) bailout from the government, after totting up losses of Rs 7,000 crore (Rs 70 billion) till March 2009.
In fact, even Goyal's JetLite has made a Rs 2 crore (Rs 20 million) net profit in the quarter ended June against a net loss of Rs 135 crore (Rs 1.35 billion) in the same quarter last year. Budget carrier Indigo could be in the same league (it has notched up 13.7 per cent market share) but its numbers are not available as it is not a listed company.
Amitabh Malhotra, director of investment banking firm NM Rothschild & Sons said that India is a highly price-sensitive market. In times of downturn, consumers tend to shift from premium to economy, and the churn again favours LCCs.
The downturn forced companies to curb travel. If travel is necessary, companies are asking executives to fly budget carriers. Spicejet saw its corporate business growing 65 per cent in Q1.
This shift in traffic also forced a reluctant-Goyal to launch Jet Airways Konnect in May. ''People are willing to travel, so long as it is the lowest logical fare. Jet Airways is better-off being present in this segment,'' said a company executive.
Image: An Air Deccan aircraft