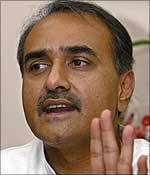 Government said on Thursday leading airlines in the country had suffered losses over Rs 2,444.83 crore (Rs 24.44 billion) during the 2007-08 fiscal.
"The leading airlines registered losses of Rs 24,448.37 million last year," civil Praful Patel said while in a written reply to a Lok Sabha question.
The minister added that Paramount Airways was the only airline, which made profits during this period.
Kingfisher Red topped the list of loss-makers with Rs 79,8.34 crore (Rs 7.98 billion).
While giving the data for the last three years, Patel said for the first time in the last three years, Jet Airways suffered losses worth Rs 2,530.63 crore (Rs 25.3 billion).
The minister said the leading airlines together suffered losses amounting to Rs 2,938.22 crore (Rs 29.38 billion) in 2005-06 and 2006-07.
Replying to another query, Patel said the government has given no objection certificates to three airline companies -- Star Aviation, Jagson Airlines and ZAV Airways -- for operating scheduled regional transport air services.
In reply to another query, he said guidelines have been issued to domestic airlines for adopting effective training programmes for their Indian pilots to replace foreign pilots.
Image: Civil aviation minister Praful Patel