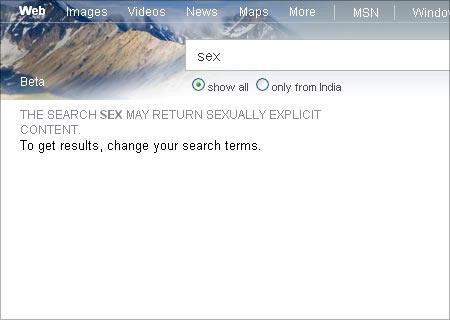 Bing.com, Microsoft's new search engine and much ballyhooed 'answer to Google', seems to have a neurotic attitude towards pornography.
While users in the United States, the United Kingdom and Australia can search for, comb over and ultimately view sexually explicit material within the search page itself, Bing.com is automatically set-up to censor searches from India and certain other countries.
Searches from within India for the term 'sex', along with other sex-related terms, return the following result:
'THE SEARCH SEX MAY RETURN SEXUALLY EXPLICIT CONTENT. To get results, change your search terms.'
No results are listed. There is no 'safe search' option where users can toggle on/off this automatic censorship.
However, it's been discovered that if users change their 'country location' setting to an uncensored country, say the US, full results will be displayed, provided the user then turns off 'safe search'.
Other countries to get this censorship treatment are Middle East nations, China, Germany, Hong Kong, Indonesia, Malaysia, Singapore, Taiwan, Thailand and Turkey.
As for a possible explanation, it's been surmised that Microsoft is likely wary of India's Information Technology Act of 2000, which contains specials provisions related to publishing or transmitting pornographic content.
The definition of such 'pornographic content' is reportedly far-reaching: Any content that is lascivious and that will appeal to prurient interest or the effect of which is to tend to deprave or corrupt the minds of those who are likely to see, read or hear the same.
In the past, analysis of search engine data has shown that Indian users search for 'sex' more frequently than Internet users from any other country.
Bing.com, which is essentially a beefed up version of Microsoft's 'Live Search', was unveiled by Microsoft CEO Steve Ballmer on May 28, at the All Things D conference in San Diego. Bing was scheduled to be fully online by today, June 3.
Image: A grab of the search results page on bing.com with 'sex' as the search term and 'India' as the country location