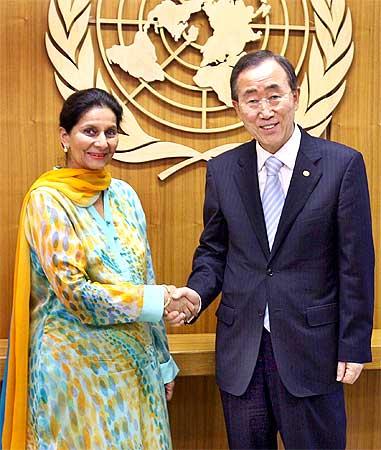 Though affected by the current global economic meltdown, India has fared much better than other countries of the world, Minister of State for External Affairs Preneet Kaur said on Friday.
"We have fared much better than others though we are also affected and our growth rates have come down from the nearly 9 per cent average of the past four years to 6.7 per cent in 2008-09," Kaur said in her address to the UN Conference on World Financial and Economic Crisis being held at the UN headquarters in New York.
In response to the crisis, Kaur said India has made aggressive use of fiscal and monetary policy, with particular focus on fiscal stimulus in infrastructure investment.
"Our primary challenge is to get rid of chronic poverty, ignorance and disease, which still afflict millions and millions of our citizens. For this, we need a high rate of growth coupled with measures to make it inclusive," she said.
"We have endeavoured to achieve this through huge investments in the rural and farm sector, a massive rural employment guarantee scheme, infrastructure development projects, major national food security and rural health missions, and an urban renewal mission," Kaur said. --PTI
Minister of State for External Affairs Preneet Kaur (left), calls on United Nations Secretary General Ban Ki-Moon, at the UN Headquarters in New York on Wednesday.
Photograph: Jay Mandal/On Assignment