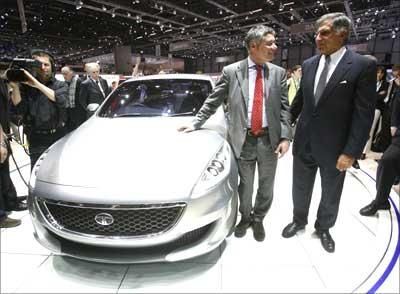 As I file this report, the Tata press conference at the Geneva Motor Show is yet to happen. But it is nevertheless fun to hang around the two Tata Nano Europa models on display.
The name Europa is already taken by Lotus and it was indeed a bit perplexing to see the Nanos wearing the title. Journalists from various nationalities poked, pushed and pulled at the Nano Europa that was on static display.
"I have no option but to lock the car and keep it locked till the press conference," said a rather harassed Tata employee. "Most of the journalists come with the notion that the Nano is not well built - and they are surprised to see that it is actually a production-ready model," the Tata executive continued.
The Tata Europa is a jazzed-up version of the Nano that we got to see at the Auto Expo in India last year, but there are some important changes.
Power comes from a three-cylinder petrol engine as against the two-cylinder engine in the Indian Nano. Power steering is standard, too. The cars at the Geneva show pavilion featured 175/50 R 14 P6000 Pirelli tyres that immediately made the car look good and more proportionate overall.
LED lighting may not reach the production line but it looked good in any case. The car will also feature ABS, driver and passenger side airbags and an electronic stability package when it's launched in Europe in 2011.
The interior of the car (only right-hand drive cars at the show) is done in such a way that most components are the same for the left-hand drive application. The car, according to an executive present at the show, features a three-cylinder engine so that it can keep pace with expressway speeds.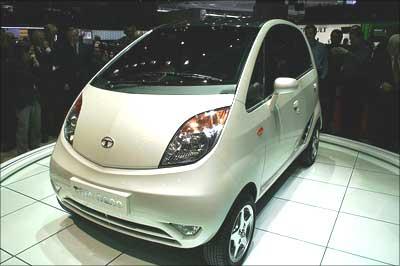 Tata also stunned many with its sedan concept, designed by none other than Pininfarina - the famed designers of Ferrari cars. The Tata Prima concept looks gorgeous from all angles and can give birth to a sedan that can rival the likes of the Honda City and the Fiat Linea in India.
Tata Motors also showcased the Indica Vista EV, an electric vehicle based on the Vista that was launched in India last year.
Tata hopes that the Vista EV, powered by lithium-ion batteries, will have a range of 200 km. The vehicle has been developed in collaboration with Miljo Grenland/Innovasjon, Norway. Tata Motors' UK subsidiary, Tata Motors European Technical Centre, has a 70 per cent stake in Miljo. The EV is undergoing evaluation in Europe.
Image (top): Paolo Pininfarina, chairman of Pininfarina S.p.A. (L) and Tata Motors' chairman Ratan Tata pose in front of the Tata Prima during the first media day of the 79th Geneva Car Show at the Palexpo in Geneva. | Photograph: Denis Balibouse/Reuters
Image (bottom): Tata Nano unveiled at the 78th Geneva Car Show.
Powered by