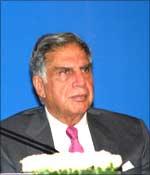 India may be the primary target market for Nano, but Tata Motors is looking at taking its Rs 1-lakh (Rs 100,000) wonder to the United States in three years, besides Europe.
"Given the present indications of the buying preferences in the US, we felt that we could further develop the European Nano to meet the requirements of the US," Tata Group chairman Ratan Tata told reporters in Mumbai on Monday.
The company has already unveiled the European version -- Nano Europa -- at the Geneva Motor Show earlier this month -- which is likely to be fitted with a more powerful engine than the Indian version complying with Euro-V emission norms.
The Indian Nano is powered by a 623cc, rear engine complying with BS II and III emission norms.
"The US has certain additional requirements particularly in terms of rear crash. No other country presently has, so there will be some redesign necessary, but we believe that within the next three or so years, we could develop a version of the Nano with options the US market might want to have," Tata added.
He said the company hoped that Nano would be available in the European market by 2011 and would be compliant with all the emission and safety requirements of Europe.
The European version is likely to be fitted with a more powerful engine than the Indian version, Tata said.
About the pricing of the car, Tata said: ". . . obviously (Nano) would not be a Rs 1-lakh or a $2,500 car (in Europe), it will have all the airbags and all the safety features that would be demanded by the European customers."
Tata, however, ruled out the possibility of entering into the one of the world's biggest emerging auto markets -- China.
"We have not considered China because we thought we had our hands full meeting the needs of the Indian market and that is in fact our primary concern," he said.
Image: Ratan Tata after unveiling Nano at the Parsi Gymkhana at Marine Lines, Mumbai.  
Photpograph: Sanjay Sawant
Text: PTI