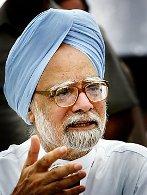 Prime Minister Manmohan Singh and Finance Minister Pranab Mukherjee today said the government would like to 'take forward' financial sector reforms like insurance and pension, but added caveats that suggested the road ahead was not smooth.
The finance minister said partners in the United Progressive Alliance (UPA) had to be won over as much as the Opposition Bharatiya Janata Party (BJP) and the Left parties and said he was unable to commit himself to whether the legislations would be passed in the winter or budget session of Parliament.
In the context of stalled politically contentious legislations such as opening up of the insurance sector and pushing ahead with labour reforms, the PM talked about taking reforms further: "We will do so, but it has many dimensions. The focus will be on increasing investment in rural infrastructure and education." Both were speaking at the annual Hindustan Times Leadership Summit here.
The PM put the onus of the country's development on the political leadership in the states, endorsing Rahul Gandhi's repeated statements that state leadership of the Congress needed to be revitalised. He said the future of the country would depend on the progressive qualities of future leadership.
"Sitting here in Delhi, we can endlessly debate the qualities of national leadership. But the real change in India will come when we get the right kind of state level and local leadership," he said.
"No doubt the Union government has an important developmental role, apart from its central role in providing national security. However, with the growth of the market economy and with individual talent and enterprise being unleashed, no agenda for building a new India can any longer be imposed from Delhi," the prime minister said.