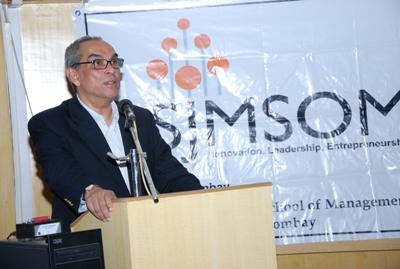 India's history of losses will be replicated yet again in 2009, a crucial year in terms of the digital revolution.
"India will lose its way in the online digital revolution just like it did during the industrial revolution if the government does not take proactive measures to make broadband cheaper and easily accessible," Ajit Balakrishnan, founder and CEO of rediff.com said.
He elucidated how India failed miserably to cash in on the industrial and textile revolution, when the West exploited India's resources and made remarkable progress.
During the industrial revolution, India failed to understand that increased industrialisation would help productivity and employment by creating jobs.
Speaking at the Avenues 2009, the annual event of the Shailesh J Mehta School of Management, IIT Bombay , Balakrishnan said India's policy makers do not think this is a priority and they do not understand how crucial broadband is for India's future.
Lamenting on the dismal 2 per cent broadband users in India compared to 60 per cent in the United States and 65 per cent in Japan, he said the cost of broadband must come down considerably.
Currently, the cost of broadband in India is 260 times higher than in South Korea, while in China it is 65 times higher. South Korea offers the world's cheapest broadband rates. The high cost prohibits many users from accessing Internet in India, he said, limiting usage to just checking emails.
The proliferation of broadband can make many products and services cheaper. For a country slated to become a superpower, the Internet connection must be always on, fast and available at a reasonable price, he said.
Unless the government takes affirmative action, the country cannot make progress in broadband penetration. "The government is frightened to take initiatives and there is a lack of confidence to take the right decisions," he stated.
An email sent from a user in Mumbai to a user in Chennnai is routed to a server in the US or Singapore. This routing scheme has to change to bring down costs. The government should invest in fiber optic connectivity and bring about net neutrality to drive broadband growth. The Internet Service Providers (ISPs) should not favour any particular site or stop users from visiting any legitimate site.
He spoke of the three trajectories that a revolution goes through. Firstly, the cost trajectory, which causes a drop in prices of certain goods and services, such as cotton clothes during the industrial revolution. He compared it to services such as music and news downloads, during the present digital revolution.
Next is the scale trajectory, which occurs as the demand increases. The third trajectory he described was the machine trajectory which consisted of mechanical improvements during the industrial revolution and the creation of machine learning algorithms for the present revolution.
Citing the example of credit card users in India, he said while there are 120 million debit card users, there are only 9 million credit card users, the main reason for this is a lack of a credit regulatory system. He asked how long does it take to form a regulatory system. "It would just take one day's effort," he said.
A society cannot function without the government and its regulations. The climate of inaction must change for India to progress. The active participation of policymakers is crucial to reap the benefits of the digital revolution, he explained.
Speaking on the theme of the event, 'People, Planet, Profit,' a concept where social, economic and environmental considerations are incorporated to evaluate corporate performance, Pramod Chaudhari, chairman, Praj Group, said that the triple bottom line principle considers that besides economic aspects, businesses should look toward the environmental and social aspects to ensure true sustainability.
Emphasising on the need to develop clean technologies, he said it is vital to offer more opportunities to the underprivileged, educate and make them employable and aware of the challenges we face. "Innovation and entrepreneurship go hand in hand. We need to promote not just entrepreneurs but also intrapreneurships where younger managers within a company, who have good skills and ideas must be encourage to develop their ideas."
He said that education should be supported through affirmative action, instead of the current system of reservation, so that each company or department takes the initiative to train people from backward areas of society.
India's growing population must be seen as a big opportunity, he said. He called on the management students to think, be innovative and work towards developing sustainable solutions for the planet.
The Shailesh J Mehta School of Management established by IIT-Bombay in 1995 has made remarkable progress since inception in terms of research and high placement offers. The blend of technical knowledge and business acumen makes our students successful leaders in the dynamic and competitive corporate world, Prof Karuna Jain, head of the Shailesh J Mehta School of Management said.
Avenues 2009 saw the active participation from B-school students across India on themes like green IT strategy, equity presentations, green project financing event, social marketing and entrepreneurship reflecting the creative and intellectual capability of the students.
Image: Ajit Balakrishnan, founder and CEO, rediff.com; and chairman of the Indian Institute of Management, Calcutta (IIM-C) Board of Governors.