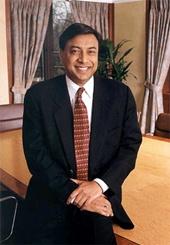 India-born steel magnate Lakshmi Mittal remains the richest business tycoon in South Africa despite his fortune having halved in the past year due to the global recession.
Mittal heads the Rich List, a ranking of the 150 wealthiest businessmen in South Africa released here by the weekly Sunday Times, for the fifth consecutive year, even though he is not living in South Africa.
He has been included in the list because of his shareholding in Arcelor Mittal SA, the steel company born out of Mittal's takeover of former state-owned monopoly Iscor.
According to the Rich List, Mittal remains at the top of the list despite the value of his stake in Arcelor Mittal SA having come down to more than half in the past year, from 45.7 billion rand to 16.95 billion rand owing to weak global markets.
The Rich List is based on an analysis of holdings of all companies listed on the Johannesburg Securities Exchange.
Mittal narrowly beat South African businessman Patrice Motsepe of African Rainbow Minerals, whose stake value stood at 14.246 billion rand.
Their nearest rival Nicky Oppenheimer was way below them with just 5.3 billion rand. Only four South African Indian businessmen-- Ragi Moonsamy (61), Akhter Deshmukh (143), Mustaq Brey (145) and Yogesh Narsing (147) -- made it to the list of 150.