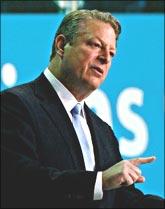 Former US Vice President Al Gore could become the world's first carbon billionaire following his investments in green energy companies after anticipating the need to reinvent the way the world produces and consumes energy.
Gore's venture capital company has been investing to develop energy-saving technologies, which could make electricity grids more efficient.
Last year, they had loaned a California firm, Silver Spring Networks, $75 million to produce hardware and software to improve electricity grid efficiency.
The deal appeared to pay off in a big way last week, when the Energy Department announced $3.4 billion in smart grid grants and of the total, more than $560 million went to utilities with which Silver Spring has contracts, The Telegraph reports.
The move means that Gore's venture capital firm -- Kleiner Perkins -- and its partners could recover their investment many times over in coming years.
Meanwhile, critics, mostly on the political right and among global warming sceptics, have been vocal about Gore becoming world's first 'carbon billionaire,' profiteering from government policies, which he supports that would direct billions of dollars to the business ventures he has invested in.
Among his critics is Representative Marsha Blackburn, Republican of Tennessee, who has claimed that Gore stood to benefit personally from the energy and climate policies he was urging Congress to adopt.
However, Gore has maintained that he is simply putting his money where he has been advised to, and said: "Do you think there is something wrong with being active in business in this country? I am proud of it. I am proud of it."