The country's largest lender, State Bank of India, reduced deposit rates on various maturities by 25-50 basis points effective from November 9.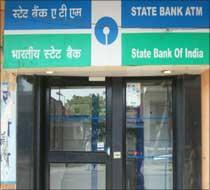 With this, deposits with a maturity of 181 days to less than one year will now carry an interest rate of 5.25 per cent against 5.75 per cent earlier, a bank communique to the Bombay Stock Exchange said.
Similarly, deposits for 1 year to less than 2 years, 2-3 years and 3-5 years will attract interest of 6 per cent (6.25 per cent), 6.5 per cent (6.75 per cent) and 6.5 per cent (7 per cent), respectively, the bank said.
Deposits with a duration of 15-45 day, 46-90 day and 91-180 day will now attract interest rates of 2.5 per cent (2.75 per cent), 3.5 per cent (3.75 per cent) and 4.75 per cent (5 per cent), it said.