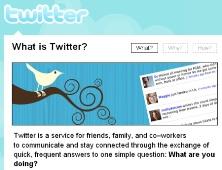 Twitter may have gained immense popularity as a microblogging website but in India majority use it as a source for news.
A survey by technology site www.pluGGd.in says about 16 per cent of Indian users regularly 'tweet' to get news updates.
While 11 per cent use it to stay in touch with their friends, 10 per cent use the website for research purpose, according to the survey.
The social networking site, launched in 2006 by Jack Dorsey, came into prominence in the country during the 26/11 attacks when eyewitnesses sent an estimated 80 'tweets' every five seconds, helping in compiling a list of the dead and injured.
Analysts attribute the recent surge in its popularity in India to the controversial 'cattle class' tweet by Union minister Shashi Tharoor, who is an active Twitter user with nearly 3 lakh followers, arguably the largest in the country.
With its growing popularity, the website is now giving a tough competition to other networking sites like Google's Orkut and California-based Facebook, which was launched six years ago.
While Facebook has around 8 million users and Orkut has around 16 million, Twitter has 1.4 million users in India, the third largest after Germany and the US.