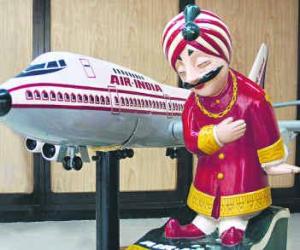 Cash-strapped Air India has been spending around 10 per cent of the airline's total salary bill to pay its team of over 160 foreign pilots and hiring companies.
As revealed by the airline in response to a Right to Information application, Nacil paid Rs 93.29 crore (Rs 932.9 million) towards salaries and expenses to the agencies, which provided expatriate pilots to Air India and Air India Express last year.
Of this, Air India paid Rs 46.63 crore ($9,327,644.23), while its budget arm Air India Express spent Rs 46.66 crore ($9,333,732.11) on the expat pilots during the same period.
Unlike several other carriers across the globe, Air India does not recruit pilots on its own but hires them through placement agencies like Rishworth Aviation Ltd.
"In addition, the company spends up to Rs 7,500 per day to accommodate foreign pilots in expensive hotels and provide chauffeur-driven air conditioned cars to them for non-flying duties as well," a Indian Pilots Guild spokesperson said.
The company has kept these pilots out of its cost-restructuring plan, which include proposals to cut wages, allowances and incentives, the spokesperson said.

There are 163 expatriate pilots in Air India, besides 1,253 Indian pilots and about 200 trainees.
With a total staff strength of 30,505, the airline is targeting lowering total manpower costs from Rs 839 crore (Rs 8.39 billion) in the first two quarters of the current financial year to Rs 650 crore (Rs 6.5 billion) in the next two quarters, official figures show.