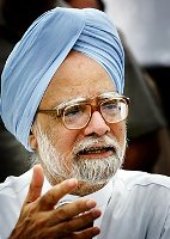 Prime Minister Manmohan Singh said on Sunday India would continue to work with like-minded people to make the Copenhagen climate change conference a success.
However, he emphasised the need of the developed world to extend help to developing nations.
"Although all of us are affected by climate change, historic accumulation of carbon dioxide has been the result of 150 years of industrialisation of the developed world," said Singh in the India Economic Summit.
He added, to cater to the issue of climate change, India had a National Action Plan with eight key missions.
"We have prepared a national action plan on climate change outlining our response in this critical area, focusing on increased energy efficiency and greater use of clean technology," Singh said.
Moreover, he said the developed world should ensure that technology gap was bridged between them and the developing world and capital flows should be ensured to make the regulation of climate change a success.
Image: Prime Minister Manmohan Singh