Pharmaceutical firm Ranbaxy said on Monday that it is in talks with the US Food and Drug Administration to sort out issues related to generic drugs but the matter is likely to take long to resolve.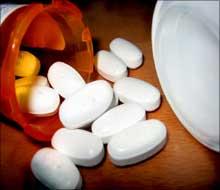 "Issues with the USFDA will take long and cannot be resolved in a day and the discussions with the FDA are going on," Ranbaxy Laboratories chief executive officer Atul Sobti told reporters here on the sidelines of the India Economic Summit.
Last year, the USFDA had banned 30 generic drugs produced at Ranbaxy's plants at Poanta Sahib (in Himachal Pradesh) and Dewas (in Madhya Pradesh) citing violation of good manufacturing practice.
Subsequently, Application Integrity Policy was imposed on Poanta Sahib facility, which meant the company's drug applications were not reviewed.
Sobti also said Ranbaxy's proposed three-year strategy plan with Japanese Daiichi Sankyo will be a comprehensive one, including manufacturing tie-up and partnership in new chemical entity development. It will be announced by January-end next year, he added.
The plan is aimed at enhancing value of both the companies with a focus on branded drugs and its back end support.
Earlier this year, both companies entered into an arrangement under which Ranbaxy would market the branded products from Daiichi Sankyo's portfolio in regions where the Japanese firm did not have a presence.
The Gurgaon-based company has recently launched Evista, a drug used for treating osteoporosis, through its subsidiary in Romania from Daiichi Sankyo's portfolio.