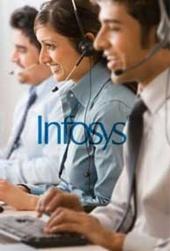 Infosys BPO, the back-office unit of IT firm Infosys Technologies, on Monday said it would hire 1,500-2,000 people by the end of the current fiscal.
"We plan to hire 2,000 people in the next four-five months or by the end of this fiscal. Currently we are 16,000 people in India," Infosys BPO CEO Amitabh Chaudhry told reporters on the sidelines of the World Economic Forum.
The 300-million Infosys subsidiary recently signed an agreement with the Andhra Pradesh government to set up rural BPO centres in 22 districts of the state.
Infosys BPO, gets significant part of its business from North America and Europe.
To bag more clients, it is said to be looking at aligning with Finacle, the banking solution business of its parent.
Infosys BPO is also reportedly planning to set up a new delivery centre in the United States before the end of this financial year.
The back-office services wing of Infosys has eight delivery centres across the globe, including in Mexico, but it did not have a centre in the US so far.
Infosys BPO registered revenues of $71.3 million with a net profit of $16.3 million for the September quarter.