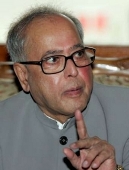 Finance minister Pranab Mukherjee said on Tuesday the fiscal stimulus will have to continue to generate domestic demand till there is a robust recovery in the global economy.
Mukherjee's remarks at the India Economic Summit came two days after Prime Minister Manmohan Singh announced from the same podium that fiscal support would be phased out next year.
"Umpteen number of times I have stated that we shall have to take corrective measures (phasing out of  fiscal stimulus) but still I do feel that strong domestic demand is necessary... it will continue for some more time", the finance minister told industry leaders in New Delhi.
Mukherjee returned this week from the G-20 meeting of finance ministers in Scotland, where they discussed a strategy to exit the global stimulus running into trillions of dollars.
After the global financial meltdown hit Indian shores towards end of 2008-09, the government and RBI took collective steps to boost demand by cutting taxes and interest rates.
The initiatives, however, pushed up fiscal deficit to 6.8 per cent of the GDP -- which in turn has negative implications on borrowing costs and could thus potentially hurt economic activities, including investments.
Mukherjee said return to fiscal consolidation is on the government's agenda as indicated by the prime minister but till the robust recovery takes place in developed countries, the support would have to continue as a sizable portion of India's $185 billion exports go to the western markets.
Referring to growth prospects, Mukherjee also exuded confidence that the Indian economy would grow by 7 per cent in the next fiscal, with growth rate accelerating to the 9-10 per cent towards the beginning of 12th Plan.
"I will be happy if I have 7 per cent plus for the next year and 8 per cent the year after that. . .thereafter I think momentum would gather and it would be possible to have 9 to 10 per cent growth surely during the initial years of 12th Plan," the minister said.
Having recorded 9 per cent economic expansion for three consecutive years till 2007-08, India's GDP growth rate slipped to 6.7 per cent during 2008-09, mainly on account of the impact of the global financial crisis.
As regards the current fiscal, the Planning Commission had projected a growth rate of 6.3 per cent, while the Prime Minister's Economic Advisory Council expects 6.5 per cent economic expansion.
Replying to questions on tax evasion, Mukherjee said India will start negotiations with all 77 countries for revising the double tax avoidance treaties.
"I have asked Revenue Department to reopen negotiations for all 77 double tax avoidance agreements. . .we have entered so far so that we can have real time exchange of information on tax evasion and tax avoidance," he said.
Image: Pranab Mukherjee