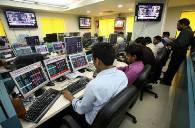 For investors and traders, who want to do technical analysis, there are a number of software packages for intra-day charting and end-of-day (EOD) software, writes Shivani Shinde.
Besides Google Finance, Yahoo Finance, the official sites of the Bombay Stock Exchange (BSE) and National Stock Exchange (NSE) offer free but delayed intra-day charts. Some brokerage firms also offer cheap options.
But as they say, free does not necessarily mean good. So while Google and Yahoo do provide intra-day charts, not all the technical indicators are included. And in the case of a cheap brokerage package, while you might get live intra-day charts, you may not be able to access historical data.
Technical analyst and director of Trendwatchindia, Deepak Mohoni recommends buying software for live intra-day charting because of the availability of historical data which is not available in brokerage packages.
Another senior technical analyst says, "While brokerage houses follow the practice of sending messages or email for day traders, it is little value to the trader."
This is because the intra-day movement of stocks are either news-based or technical in nature. So, by the time the message reaches the trader or the email hits the inbox, it is too late to making a buy/sell decision. Only, a live flash on the screen makes a feed useful.
"Beginners should start from EOD charts and then move to other advance technical charts. Also, EOD products are much cheaper than the intra-day ones," added the analyst.
A word of caution on the technology aspect – Most of the software packages available in the market support Microsoft Windows. So if you favour any open source software like, Linux or Ubuntu then you would be disappointed. And be prepared to have at least 1GB of space on your hard disk. 
While there are many who provide end-of-day (EOD) charts, there are a few that have expertise in providing live intra-day trading charts. Advanced Stock Analysis (ASA), tradewatchindia and Technical Trends are some of prominent players with EOD products, Mumbai-based Reliable Software and Spider Software are well-known players in live intra-day software. Here are some details:
Spider Software:   It has two major software products – SpiderIris for live intra-day trading charts and SpiderAce for EOD data.
SpiderIris  allows a trader to automatically track market movements and analyse the market in real-time. Live market data is provided over the internet at zero-second delay. The software offers advanced charting and technical analysis tools. Some of the key features of this are 'event tracking' and 'technical query'.
Event tracking, a propriety product from the firm, detects 30 types of events in real-time. For instance, if one wants to track when a stock crosses an earlier high, the feature allows you to detect the high. In addition, it also takes into consideration the point at which the trend reversed. Further, you can track all large trades and filter them out. Every trade is classified into buy or sell trade.
In case of technical query, you can use oscillators on a real-time basis to make decision on any stock. This is available across all stocks.
SpiderAce includes daily price and volume information for all BSE and NSE stocks, as well as a complete historical resource of stock splits, rights and bonus issues of all kinds. It also provides historical data – Since 1990 for BSE and 1994 for NSE. It also has data on derivatives, MCX, NCDEX, major world indices and major world currencies.
Reliable Software:   It has three products. Its intra-day charting product Falcon is available on a leased line, while Falcon3 Net is available through the internet. Its end of the day product is called Trend.
Falcon, which is on leased line, is preferred by brokerage houses. For individual use the internet version is better.
Reliable also provides Falcon6 Comp for commodities. But the data is delayed by two minutes. Data from the NSE is streamed live over the internet. It also provides EOD data from all other major exchanges of India and the major world indices. It comes with 40 built-in indicators to apply to stocks and monitor them in real-time.
Some key features of this product are: Pattern Search that allows intra-day queries. It has 80-100 in-built standard queries. Some of the other features include, live block deals, auto watch, pivot reports and charts for all scrips on NSE and BSE.
Trend, the EOD product, provides NSE (Cash & Futures), BSE, NCDEX, International markets, Bullion, Gold and Silver. Trend provides running query but no live data.
ASA- Specialises in EOD: ASA covers stocks listed on BSE and NSE, including futures/options. It covers Euro issues of Indian companies, prominent commodities, international stock indices, all stocks on Nasdaq, NYSE and Toronto Stock Exchange - totalling over 40,000 master counters.
For major stocks on BSE, the price charts cover a period of over 20 years. NSE price charts are from the date of commencement of the exchange. It provides advanced analysis techniques, uses auto-candlestick analyser which can identify the patterns and give interpretations. The auto-signal option gives ready-to-use technical buy/sell readings, based on different technical tools, directly showing buy/sell arrows like the SAR system.
The query module in ASA provides for user-definable query terms and report formats. There are more than 500 technical/fundamental terms to be used as criteria for shortlisting the stocks.
The user can also get shortlists based on more than 200 technical signals. At a time, 20 report columns with 20 short-listing conditions can be run simultaneously. Users can test their technical skills under real life scenario by using simulation games. Two different players can play the same chart at the same time to see who makes bigger profits.
Technical Trends: This product provides five minute data, thirty-minute data and EOD. One of the most popular products for the firms in Trendmechanic for EOD, it provides data of NSE, BSE, MCX, NCDEX and world indices.